Now that we're all enjoying the warm weather & soft showers of spring, many of us are looking for that perfect weekend getaway. Whether you stay in your home country or you fancy jetting off somewhere for a long weekend, the possibilities are endless. From fun with friends through to a romantic break for two, here is our guide to the perfect, creative and unique weekend getaways wherever you are.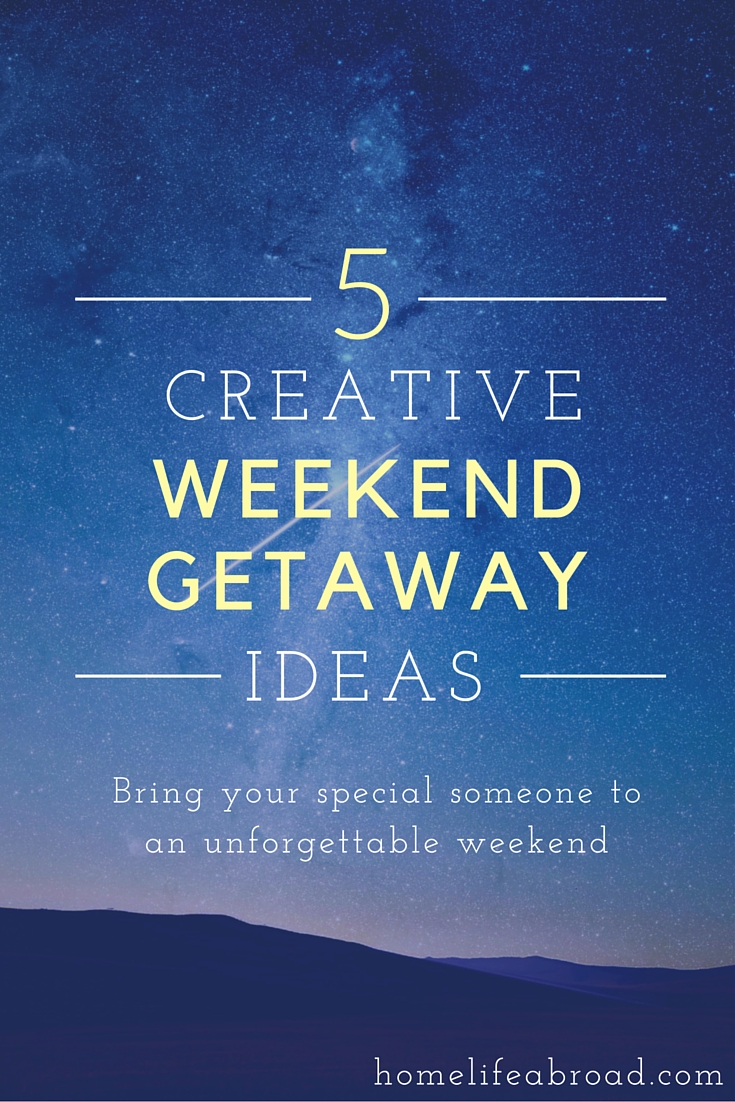 Head to a Festival
Festival season is about to launch, so now is the time to grab those tickets and head off to watch your favorite bands, shows, and art. Festivals don't have to be music based, there are poetry versions, art, dance and religious festivals to visit this year. I'm super excited to take part in a color festival this year – they have them worldwide!
If you don't fancy camping at the festival then you can see what hotels are close to the venue, although camping is the most obvious choice and sometimes the cheapest.
Hire a Log Cabin in the Woods
You don't have to be a huge fan of nature to enjoy a weekend immersed in it. If you are looking for a break involving outdoor activities during the day and evenings spent playing card games around a wood burning stove then this is the getaway for you.
The beauty of hiring a cabin for the weekend is that you will have the chance to explore your local surroundings, but if the weather takes a turn for the worse, you will have a place to retreat. The majority of log cabins now come with all the amenities that you will need, such as WIFI and mobile phone signal. So, if you are stuck inside due to the weather, you could catch up on a film with your loved one or just enjoy a weekend without responsibilities.
Stay Close to Home
When we all live such busy lives, it's difficult to see the interesting gems that are right at our doorstep. So why not revisit your hometown as a tourist?
Book a room at a local hotel, one that you have often looked at and wanted to try out. Spend your weekend visiting the museums, galleries, historical sites or local attractions. You could do this with friends, family or your partner. This is an especially good way to spend a weekend away of you have young children as you don't have to stray far from home.
Brush the Tent Off
Camping is not for everyone, but it does offer us the chance to escape and breathe in the fresh air. If you don't fancy taking your tent, there are now many alternatives, such as Yurts and camping Pods that offer a slightly different take on the classic camping experience. Choose a site that is close enough to local attractions, the beach or the rolling countryside, depending upon the type of getaway you would like.
The great thing about camping is that it is generally fairly cheap to do and it offers you a freedom that hotel breaks don't offer. You can rise when you want, eat when you want and relax or spend days exercising.
Swap Homes with a Stranger
There are many apps and sites for house swapping, which is a great chance for a weekend break in the luxury of someone else's home. Since you are exchanging homes, it's often a free stay for both ends. There are rules that apply such as respecting their home and keeping it as clean as you received it.
Choose a home in a location that you have always wanted to explore. This will give you a base that is warm, inviting and ultimately a home.
What weekend getaway would you enjoy?