We've been on holiday season here in Israel, meaning that we've had a few sprinkles of days off from work here and there. Not enough, by my judgment, but what can I say?
I'm spoiled by the wonders of the ever-so-joyful Christmas and New Year's holidays of yesteryear, when I could take at least a complete week off from work, if not more.
Now, not only do I have to work a Sunday-Thursday work week (working on Sundays is one heck of a challenge to get used to), but I'm also quite sure that I get less holiday leave than people abroad. :/ So I start this article with complaints!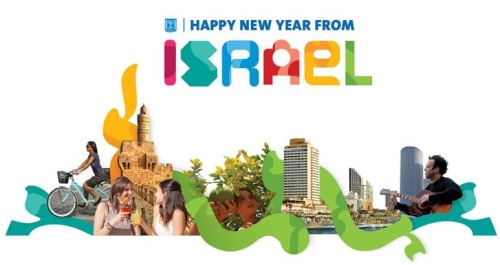 That being said, I do treasure and enjoy my days off and the boyfriend and I took advantage of the two beautiful summer days we got off earlier this month. We went up north to the Kinneret Lake for Jewish New Year's this year (Rosh Hashana).
It's just what I needed – a relaxing, quiet time away from everything: work, responsibilities, routine, the internet. I spent a lot of the time sleeping, truth be told, but aside from that, it was quite the experience.
For those of you who haven't been to the Kinneret, it's a beautiful lake, but I also grew up in the Andes mountains so impressing me with views is difficult.
The Kinneret can't step up to the challenge, unfortunately… it's not vast enough and not mountainous enough for me. But regardless, it does have its own type of beauty – it's very blue, has clear waters and is big enough to offer an attractive view and provide a relaxing, holiday feeling.
Plus, I do love how different it is from other regions of Israel; sometimes I just need to be away from the city.
We stayed at the YMCA in Tiberias, which is a nice hotel but nothing out of the ordinary. If I were to rate it, I'd give it 2.5 stars out of 5. I'm not picky; I was perfectly comfortable in the hotel.
We had a decent room, beautiful view, and a functioning air conditioner. However, the bathroom door didn't shut.
Imagine my panic when I realized that I would be in this room for 3 days with my boyfriend, and a bathroom door that was impossible to close. Needless to say, a new level of intimacy was acquired during this holiday, and it's too soon for me to evaluate whether it's a positive or negative move in our relationship.
I also ended up getting a horrible stomach virus that left me unable to eat for 4 days. I'm quite certain that it came from the hotel's kitchen staff because 15 hotel guests got the same virus…15!!!! Safe to say, I have been scared away from ever eating any food there again.
Now that I've ranted and gone through the negative aspects, here are the positive! I loved spending time with my wonderful boyfriend away from our regular routine and busy schedules.
The lake is wonderful for swimming and just hanging out in the water. I finally had the chance to read the book I was dying to read, but couldn't find the time for. There are pedicure fishies swimming in the lake's water and a few nibbled on my feet.
And I got to sleep. I LOVE to sleep. I could do it all day.
Overall review of my holiday experience at the Kinneret:
Although it sounds mostly negative, I actually did enjoy my time there very much. It's all about the great company, the view, the clear & clean water and the pedicure fish. I don't need much more than that to be happy.