We decided to celebrate our wedding anniversary with a weekend getaway in a Seaside Palm Beach Maspalomas luxury hotel. There are hundreds of hotels in Gran Canaria and making a decision in which hotel to stay is difficult.
We have stayed in several hotels already and were looking something different this time. Our daughter usually travels with us, but she was already in a nearby hotel with her grandparents, so we decided to enjoy some alone time.
The Seaside Palm Beach Hotel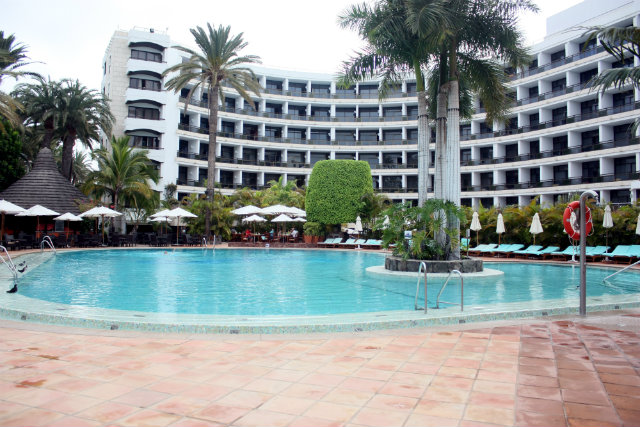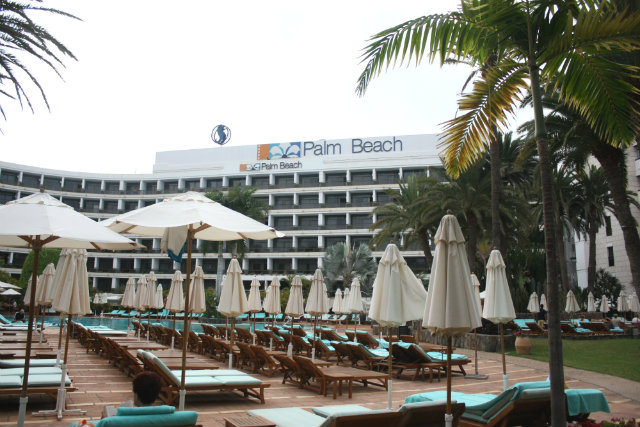 The Seaside Palm Beach is a 5-star luxury hotel that was built in 1975 and fully reformed in 2002. The hotel belongs to Design Hotels group and is listed as one of the best hotels in Gran Canaria.
The hotel complex itself is quite small, consisting of 382 rooms, 5 pools, spa & wellness center, fitness center, boutiques, hairdresser, 3 restaurants and 2 bars among other facilities.
The resort has a wide array of sport and leisure activities to choose from – open-air fitness center under the palms, tennis court, outdoor chess, table tennis, shuffleboard, yoga and Thai Chi classes and water gymnastics.
Live music and shows are offered after dinner.
Seaside hotels also have an amazing Seaside Grand Hotel Residencia*****GL right next door to Palm Beach. Hope we can visit this hotel in the future too!
Check-In
Compared to other luxury hotels, the check-in area is really small and welcoming. There were plenty of people attending and we didn't have to wait for our check in.
My husband made the reservation through email and somehow there was a little mix-up and we ended up with a better room than we had paid for. Lucky us!
The check-in staff was really friendly and explained small details about the hotel, breakfast and dinner options, spa and we were given a hotel map too. They also offered us a complimentary glass of champagne.
What we really loved is that the hotel offers free parking. It's not easy to find a parking space in the area and usually the hotel parking costs between 10-15€ ( $11-$17) per day. So having a free parking was a great surprise!
The Room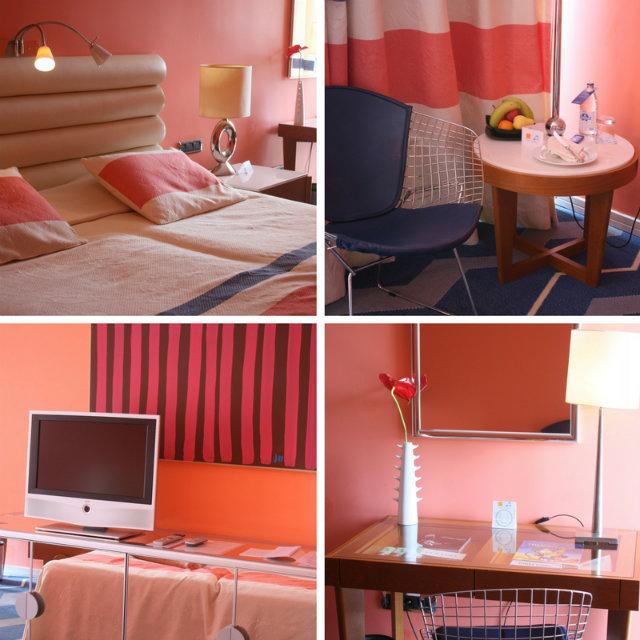 Thanks to the mix-up, we had a chance to stay in one of the luxury double rooms. There are 91 rooms of this type in Seaside Palm Beach and they are located on the floors 5 to 7. They are quite big with their 25 m² (260ft²) and adding a furnished balcony, there is plenty of room twin bed, office desk and for a little sitting corner nook.
All the rooms, no matter the category, have air conditioning (on our room it wasn't cooling the air much), phone, minibar, satellite TV, huge closets and free WIFI. Our room also had a DVD player and there was a possibility to choose different movies they had at the concierge.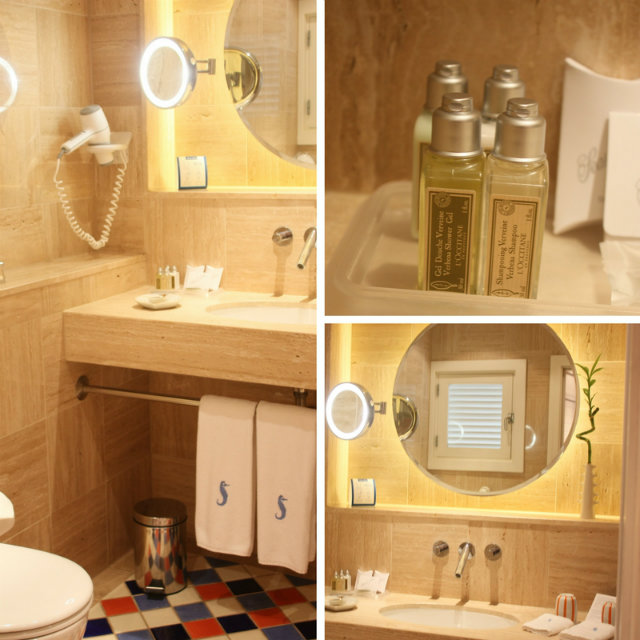 Bathroom
The bathroom was a little bit small for our taste, but it was really well equipped! The design of the bathroom was really beautiful and all the amenities weighted up the size of the bathroom. Starting from the normal things like hair dryer, slippers, and a bathrobe, there was also a magnifying mirror with LED lights, a digital scale, and L`Occitane amenities. I really hoped for a room with a bathtub, but unfortunately, it just had a shower.
I have to say that the shower wall was really narrow and after taking a shower, the bathroom floor was wet.
Maybe it was because of the great water pressure! Really loved that!
Terrace
Our terrace had a direct view of the pool and dining area and was furnished with two comfortable armchairs and a table. I would suggest them to add some kind of drying rack for the swimming clothes.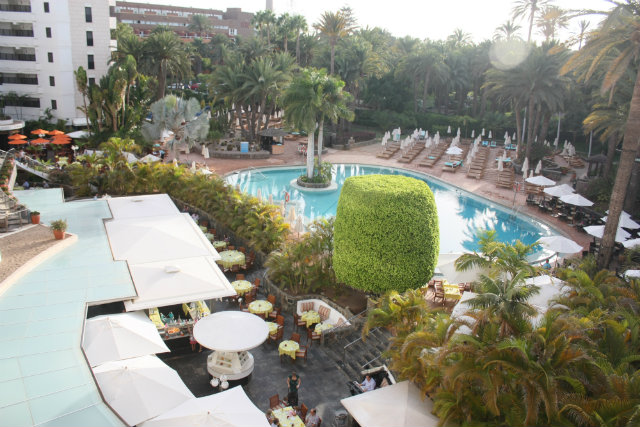 As our terrace was just above the breakfast and dinner area, there was a little bit of noise from the restaurant staff. You can't hear it when the terrace door is closed, but as our air conditioning was not working well, we had the door open at nights and in the early morning we heard how the staff was preparing for the breakfast.
Also, the pool facing rooms can hear the nightly entertainment from their terrace. It's great if you want to relax in your room after the dinner, but if you want to head to sleep early or have kids who need sleep, the music might be annoying. The good thing is that the live shows end around 22:30, so it's not that late either.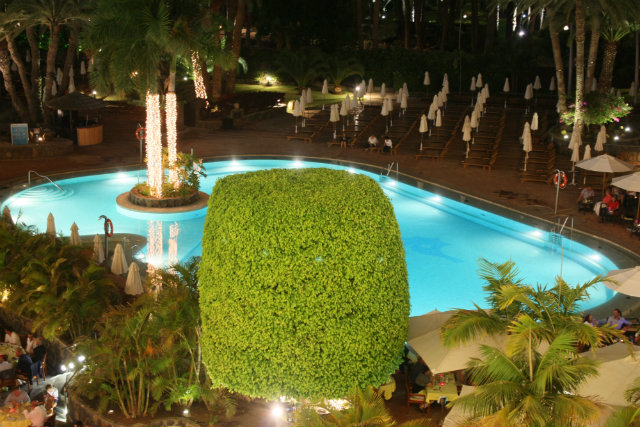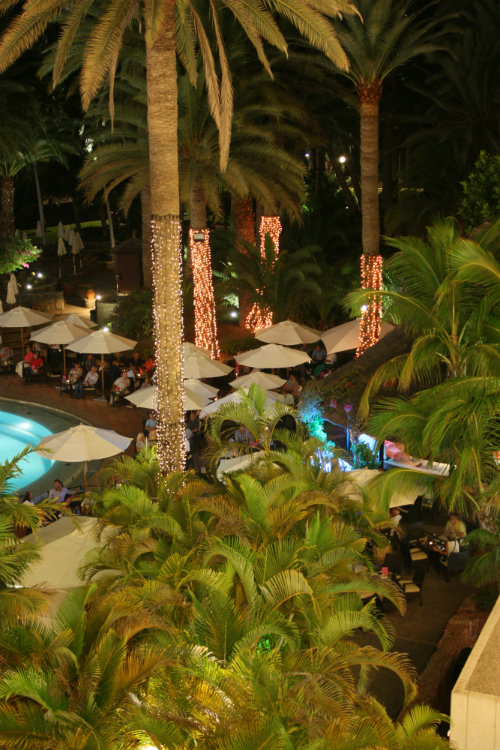 The hotel gave us complimentary water and fruits on arrival day. Also, our bed was turned down and the housekeeping left water and chocolates on our nightstands every night. The wet towels were changed, and skincare products were stocked twice a day – what a service!
Food & Drinks
As I mentioned above, the Seaside Palm Beach hotel has 3 restaurants and 2 bars. The room we chose was half board, so breakfasts and dinners were included, but there is an option to change your dinner for a lunch instead. I have to say that my husband chose this hotel for our stay for its great gastronomy reviews.
I'm not sure, but it looked to us, that the food selection was highly influenced by hotel's German customers. Not that we were complaining! The black bread selection and the desserts were amazing!
We ate in the main restaurant (actually a huge open-air terrace) for both breakfast and dinner.
We chose a table near to the pool, it was more tranquil and the view was great, the only downside being that it was a smoking area. We were lucky and when we were enjoying our breakfast, there were no people smoking.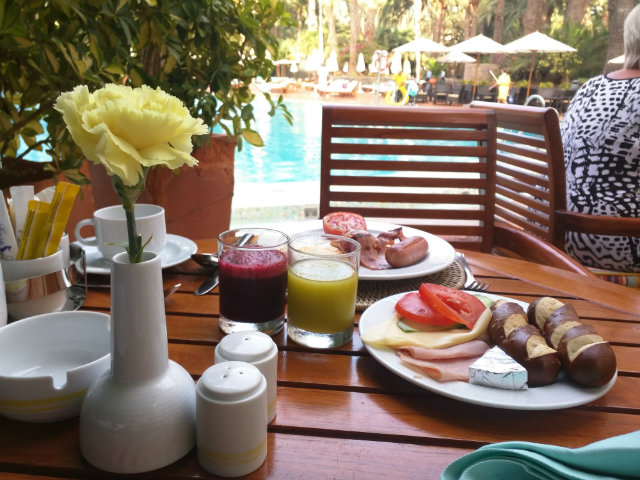 Breakfast
The breakfast buffet was really mouthwatering! From the usual eggs and bacon to pancakes, churros, and waffles, to freshly pressed juices and personalized french omelets, there are dishes to every taste. They don't have the usual selection of donuts, chocolate filled croissants and muffins, instead, they offered a multitude of different German style sweet buns, stritzels, and sweet bread.
The only negative point I'd like to bring out about the breakfast was that there was a waiting time for warm food. It's normal that when you want a french omelet with the ingredients of your choice, you have to wait, but there shouldn't be a waiting time for sausages and bacon that are one of the most popular breakfast foods. Normally the hotels have eggs, bacon and sausages already prepared and you take as much as you want, here you had to ask the amount you wanted, and the chef prepares it for you.
Dinner
The first dinner was à la carte. The hotels we have stayed before normally offer buffet dinner, so à la carte dinner was something new for us. I was afraid that there might be dishes that I don't like and I'll be hungry, but I have to say that I was totally wrong.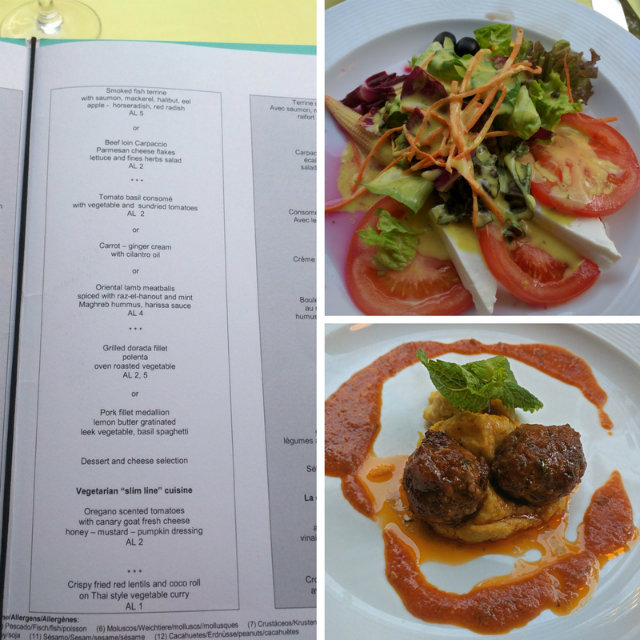 There were 3 courses and in every course, you could select between 2-3 dishes. The dessert part was a buffet with tons of delicious pastries and sweets.
The second dinner was a barbecue-themed buffet. There was a huge variety of grilled meats, ribs, baked potatoes, salads and also typical Spanish paella, papas arrugadas con mojo, and a wide selection of seafood too. I'd say that the dessert buffet was a little bit poorer compared to the first night's one.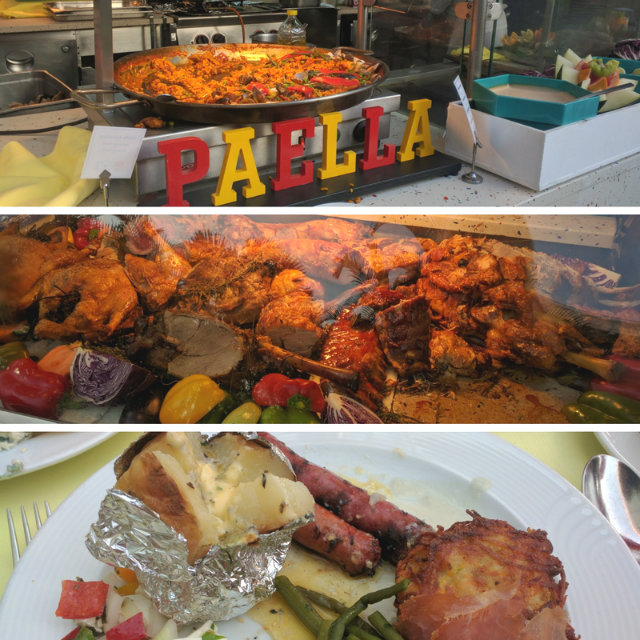 We didn't use the hotel bars but enjoyed a couple of cocktails and beers while lounging by the pool. All the drinks are served with snacks like chips, olives or a selection of nuts. The prices of the drinks were between 5-7€ ($6-$8).
The lobby area has several tables where you can find apples for snacking. Not sure if they are there always, or it depends on the season.
Pools
The Seaside Palm Beach hotel has 5 pools – baby pool, children's pool, heated freshwater pool, saltwater pool and brine pool. As we did not have our daughter with us this time, we can't tell anything about the children's pool, but we did try out other 3 pools.
In general, the pools are really great! Even if the pools are not really big ones, they never feel crowded.
There are more than enough sunbeds and parasols for everyone and what we really loved was how friendly and helpful the pool staff was. They brought us sun lounger cushions without asking and also added towels to the loungers – that has happened in no hotel we have visited before. They also helped people to move their belongings to other loungers if needed or changed the parasol position when the sun changed its direction. Excellent service!
We spent most of the time enjoying the saltwater pool. This pool is heated to 30°C, has underwater massage jets and it's for adults only! The pool is surrounded by palm trees that keep the general pool noises away. It's a perfect place for relaxing!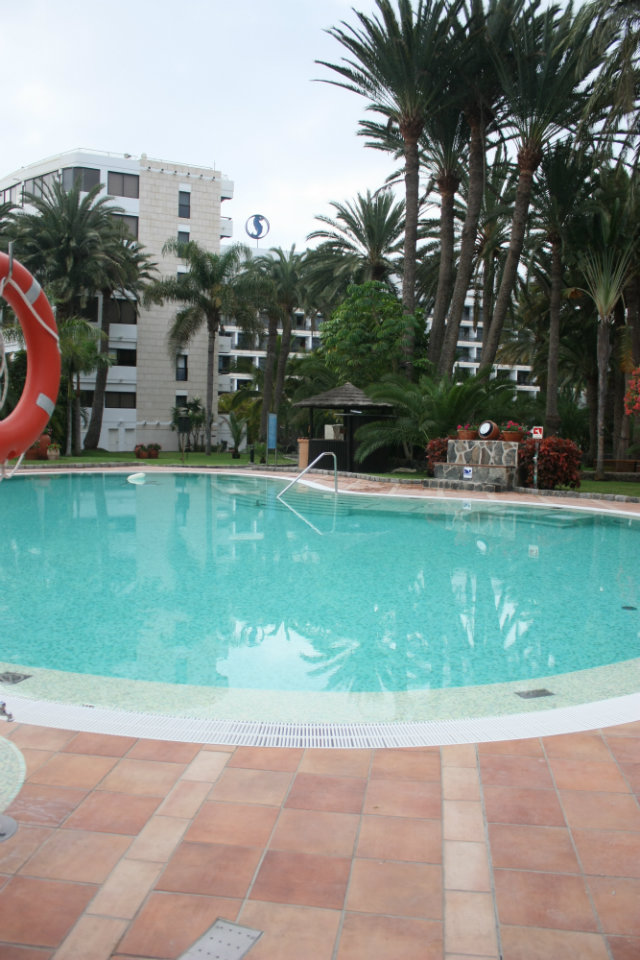 We also tried out the brine pool. It's hidden in a little palm grove, the water temperature is between 30°C – 33°C and this pool is adults only. Next to the brine pool, there is an artificial beach for people who want to enjoy peace and quiet.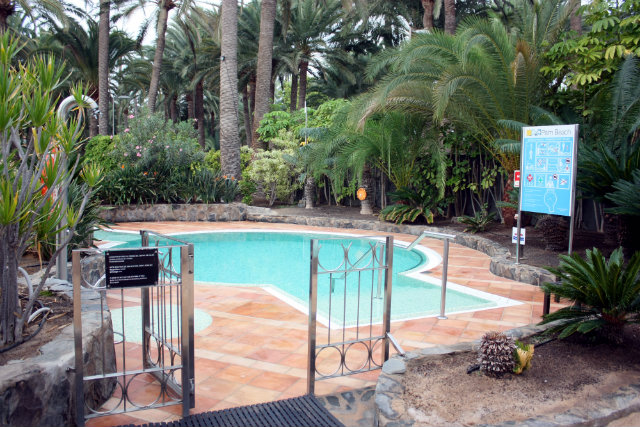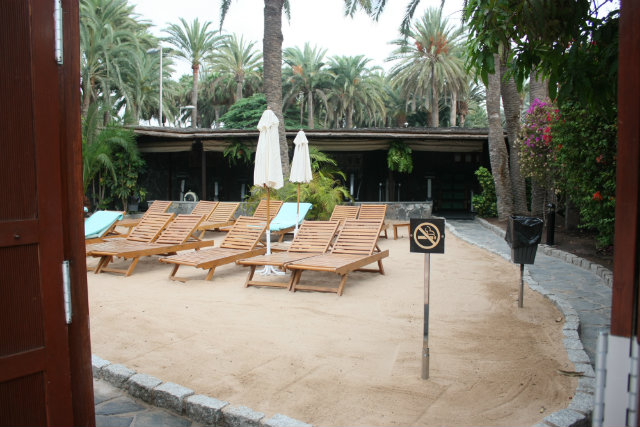 Near these pools, there is also a spa, nudist zone, and several saunas.
The general pool is also heated (24°C) and it's a place where most of the people spend their time. There is a special area for kids with shallow water and there is also a little artificial island with palm trees, that give shade.
Near-By Facilities
The hotel is situated next to the Natural Reserve of the Dunes of Maspalomas and the Pond of Maspalomas. The beautiful Maspalomas beach is just 2 min walk from the hotel. There is a supermarket on the way to the beach. A short walk (10min) takes you to the Maspalomas lighthouse and a colorful pedestrian avenue full of shopping opportunities.
In Conclusion
Seaside Palm Beach is a hotel we recommend without a doubt!
The hotel is really great, but for me, the staff makes it the best hotel I have stayed in. While it's family friendly, I recommend staying here with your significant other or by yourself, to take advantage of the adults only area too.
free WIFI on all hotel territory
the best staff we have ever seen
more than enough sun loungers and parasols
comfortable & clean rooms
L`Occitane amenities
heated fresh and saltwater pools
delicious food
room cleaned twice a day
free parking
no bathtub
shower door too narrow – wet bathroom floor
AC not working well
waiting time for the warm food during the breakfast
Web: http://www.hotel-palm-beach.co.uk/

Address: Avenida del Oasis s./n. 35100 Meloneras, Gran Canaria, España

Phone: 0034-928-72 10 32