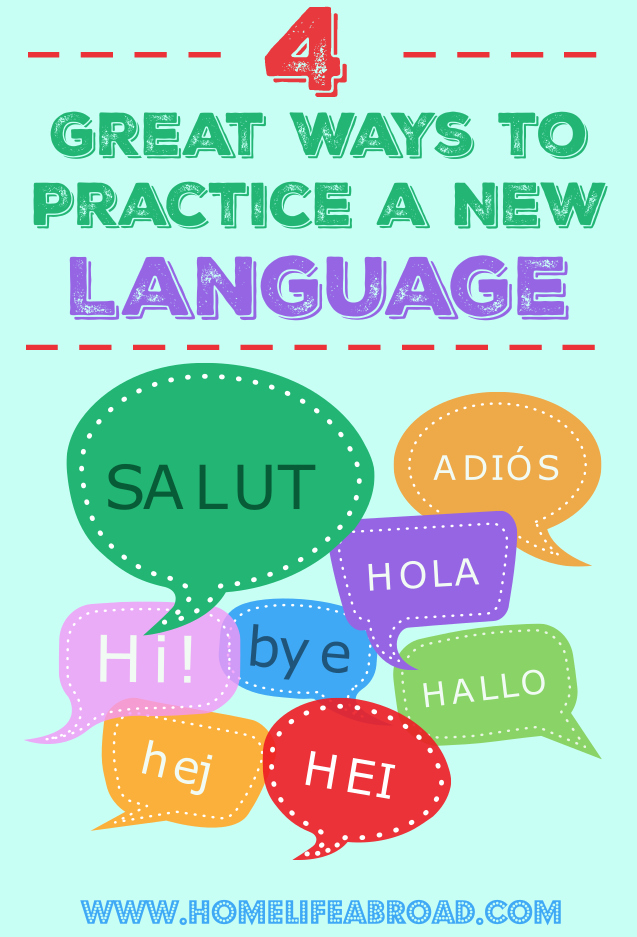 I've written before about learning a new language, but since our site is about living abroad, it continues to be a very relevant topic.
Recently, I went back to Hebrew language courses and was surprised to be placed in the highest level. Apparently, while I was so focused on mistakes and not knowing certain words, I had actually developed a strong fluency in the language. 🙂
I have loved learning languages since I was a little kid. By the age of four, I spoke 3 languages fluently (no kidding!) and my passion for languages has only increased with time (although now it's more focused on computer language).
So I thought I would share a couple of helpful paths I took to improve my skills, understanding and fluency of various languages throughout time.
Try online language exchange programs
A few months ago, I joined a few language exchange programs to practice speaking with people. It's a great way to practice without feeling self-conscious. After all, everyone who is a member is looking to practice a particular language, so patience is an unspoken rule. Plus, you can build great friendships with people worldwide.
I saw some really great potential 'talking' buddies in the sites and it was especially great when we could mutually help each other since I spoke their desired practice language. However, I didn't end up managing to speak to anyone relevant because I got banned for "using a celebrity or stock image". Apparently, as a blogger, I'm now a celebrity? Score!
The largest negative I found on these sites is that as a female, I was contacted by so many irrelevant men who do not speak my desired practice languages. They're just looking to use the sites as dating sites… grr.
Immersion is the best way
The best way to learn a language is an immersion into the country, the culture and its society. Ave studied Spanish in Spain, which is where she met her Spanish husband. The fact that she was learning the language while being immersed in Spanish society contributed greatly to her ability and speed to catch the language.
No matter how many books or classes I take, the fastest way for me to get an 'ear' for the language is being there. For example, I understand Italian quite well – however, when I was briefly in Italy, I found myself having difficulty understanding the quickly spoken nature of the day-to-day language. But my ear adapted to it and little by little I was having an easier time with it. Plus, I was "forced" to use my Italian in all sorts of interesting situations.
Watch television shows and movies
I watch the news in Italian!
I'm always amused by my boyfriend's ability to understand Japanese just based on his love for anime. Even though he uses subtitles to fully comprehend the dialogue, he started catching words in Japanese very quickly. We are bound to hear patterns in the language even without realizing it. For example, the moment I heard "hai" and the translation was "yes", boom, I learned the word with zero effort.
If you understand the language at a higher level, I can't stress enough how helpful it is to watch television shows or movies in that language, especially without subtitles to force the effort of understanding audio.
Look for live TV feeds for channels – there are thousands of available online television channels from across the world. For the most part, they are legal since you are streaming them directly from the channels' official websites. If not, look for videos on YouTube. Take advantage of today's access to all corners of the globe!
Learn the most important words
I LOVE the helpful language learning tips by Tim Ferriss. If you are unfamiliar with him, he's a polyglot who has cracked the language learning process and claims that you can learn to speak a language fluently within 4 months.
His #1 tip: learn the most used words in a language. In English, 300 words make up 65% of written material… learn those 300 words and you're halfway through fluency. It works the same way in other languages.
Read through this article to be inspired by Tim's methods. I'm using them myself and I see a drastic improvement in my ability to adapt to new languages.
Have you ever learned a new language? What helped you through it? Tell us below!
Thanks to Freepik for the unedited version of the featured image.