**I received the products mentioned below to facilitate my review. All opinions, however, are 100% my own!

As you might know, my daughter is a huge fan of everything makeup and manicure related. I don't use much makeup and get my nails done just once in a while, but somehow my daughter has grown to love beauty products.
So naturally, when she was making her Christmas wish list, one of the things she mentioned on her list was play-makeup and nail polishes. While I'm ok with her play makeup wish, I'm not so keen on giving her nail polishes. Sometimes during our mother-daughter time, we do our nails together at home, but I tend to avoid this activity as it usually ends with a huge mess and traditional nail polishes are not safe for kids to play with.
After doing a little bit of research on kids nail polishes, I found that there are polishes that are not only safe for kids to use, but they are also mess-free and still give your kids nails fun and cute look.
Want to know more about these nail polishes? Let me introduce you to Safe'n'Beautiful!

S'N'B is a Greek company that specializes in water-based nail polishes for children and women. They have two main specialist ranges – Snails (safe kids nail polish) and S'N'B Wash-Off (luxury water-removable nail polishes for women).
Their products are:
water based
non-toxic
safe to use during pregnancy
no chemical removers needed
wash out of clothes and fabric
safe for environment and animals
no animal testing
all packaging can be recycled
lead-free bottles
Safe'n'Beautiful sent my daughter several of their products to try. So if you are interested in our review of their products, keep reading!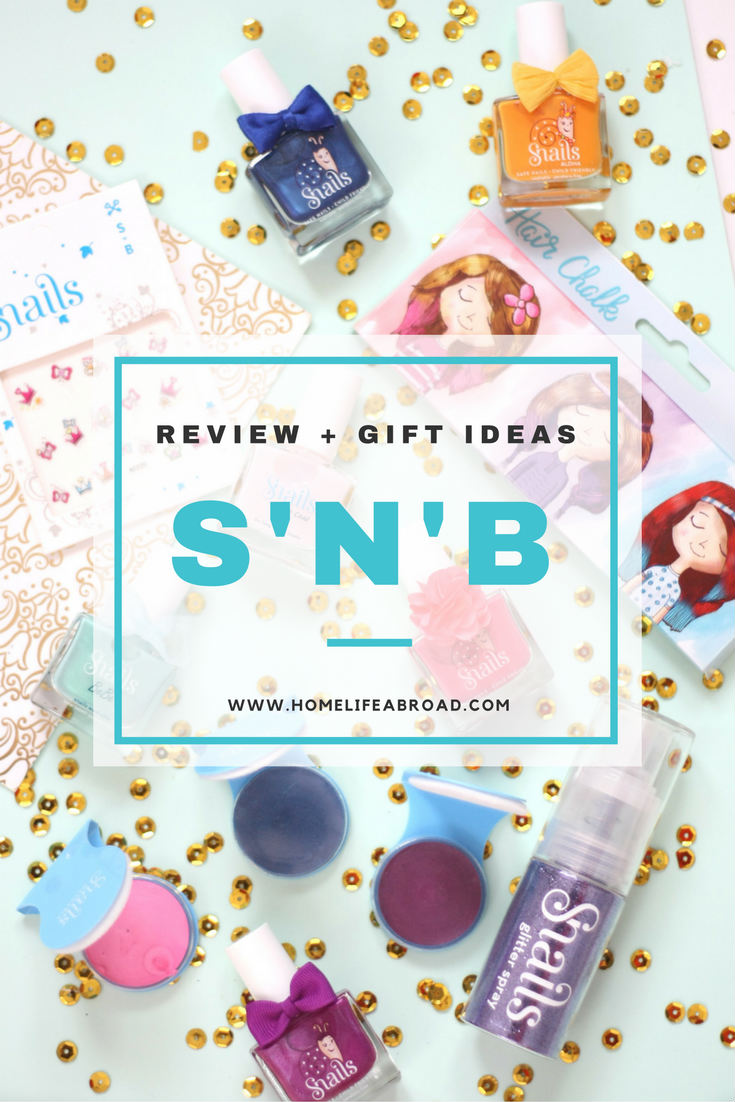 Snails Kids Nail Polish
We got to try 6 nail polishes (1 from Fleur collection, 4 from main collection + top coat). The first thing that surprised us when opening the package of Snails kids nail polish bottles was the design and the presentation. The main collection polishes have a little bow and the Fleur collection a little flower. I think these are the cutest nail polishes ever!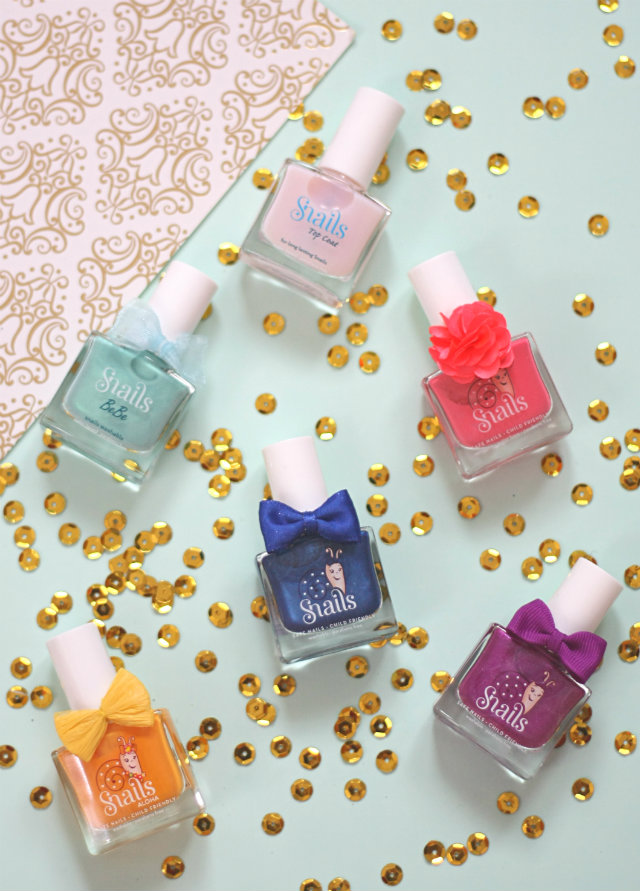 Knowing that these polishes are water-based I had no idea what to expect regarding the colors. We were really happy with the results as the colors are really vibrant and after the paint dries, it results in a glossy finish. These nail polishes dry really fast, so I did not have to worry that my daughter would get bored while waiting to add another coat.
My daughter loves to paint her nails, but after a couple of minutes, she wants to take the polish off or change the color. With these Safe'n'Beautiful polishes all she has to do is wash her nails with a little bit of water and soap or use baby wipes and her nails are ready to be painted again.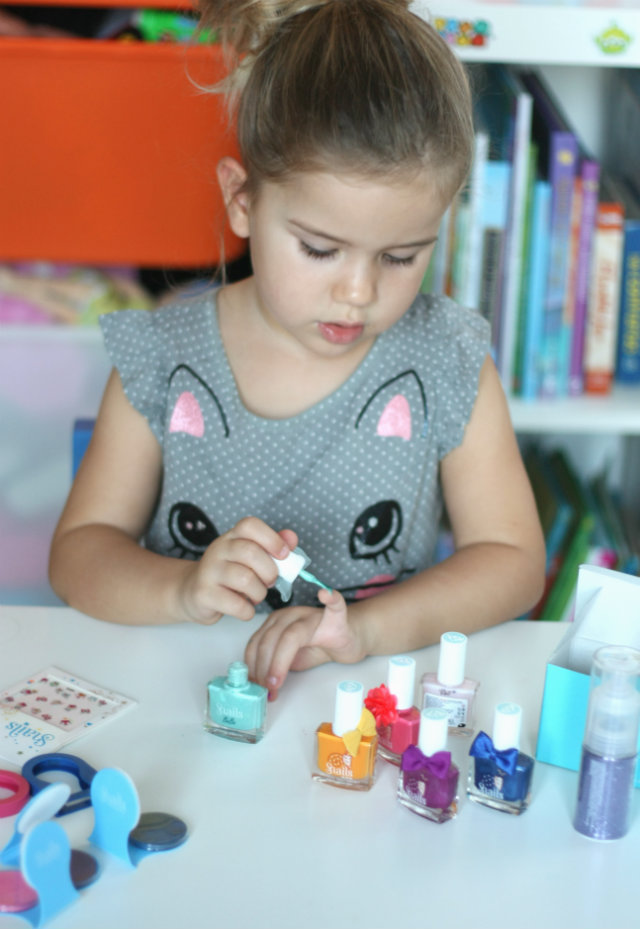 We had a couple of accidents while she was painting her nails – some of the polish got to her clothes and to the table too, but with just using baby wipes the mess was cleared in less than a minute! For me, this is a huge plus when doing our nails!
Snails Hair Chalks
S'N'B hair chalks come in a pack of 3 colors – blue, pink and purple. They are really easy to use – just slip the desired color down the hair for a couple of times and you have colorful highlights in less than a minute! The chalks are creamy and it might take a few tries to get the desired result. If you get to much chalk in your hair or some chalk clumps, just comb the hair and the excess color will come off.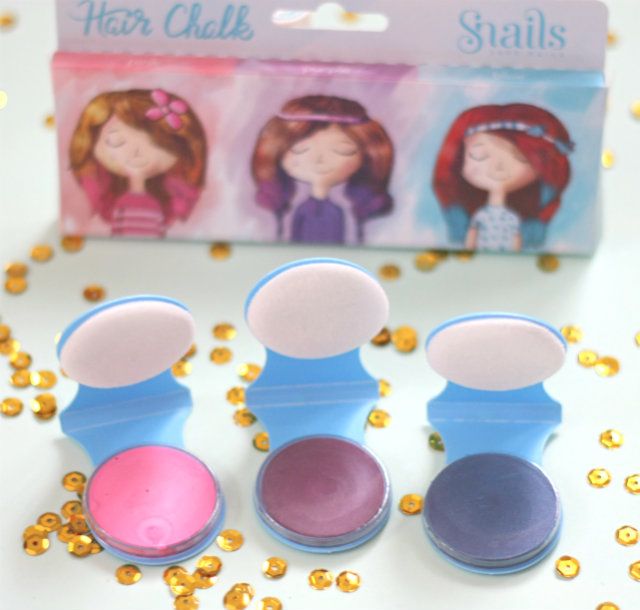 My daughter was a little bit worried and asking all the time if the paint comes off eventually. When she saw that the hair was back to normal after the shower, she asked for some pink highlights for the school next day too!
Snails Body & Hair Glitter and Snails Nail Stickers
Every little princess loves glitter! Snails body and hair glitter spray is a great way to give your kids hair a fun glittery finish without making a big mess. We used this glitter spray after using the hair chalks, to make the highlights pop. Sofia also added a little bit of spray to her nails while waiting for the nail polish to dry.
For an extra level of fanciness to your kid's nails, let them use nail stickers! They are really easy to use – just peel and stick!
The things we love about Safe'n'Beautiful:
vibrant colours
mess free
really easy to clean
odor free
safe for kids to use
super cute design and packaging
As you see Safe'n'Beautiful has a big variety of fun and cute products that would make perfect stocking stuffers or gifts for this Christmas for girls in your life!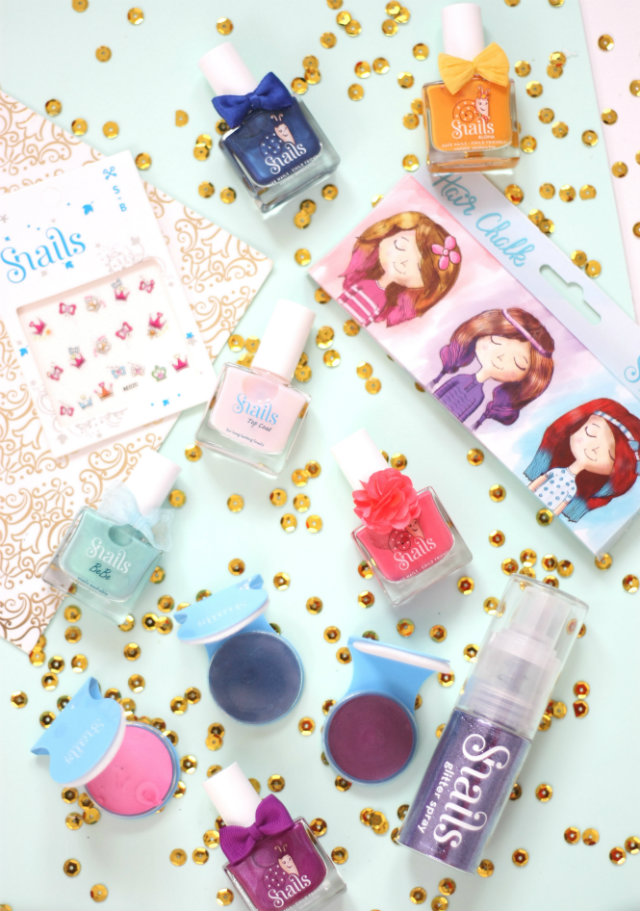 What's your favorite product from S'N'B?