*Disclosure: I received the products mentioned below to facilitate my review. All thoughts and opinions are my own. Please note that some links may be affiliate links and we may make a commission if you purchase a product after clicking on a link. This doesn't affect the price, but we appreciate your support in this way!
At last, our TokyoTreat Japanese snack box is here! Don't know what Spanish post is doing with packages lately but the take more time to arrive.  You can read more about TokyoTreat and our first box review here!

There are 3 different box sizes to choose from and you can choose monthly, 3 months, 6 months or a yearly subscription plan: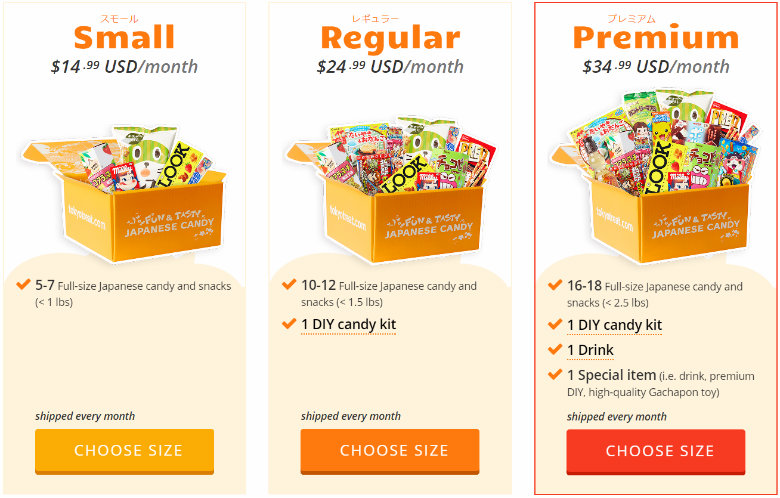 This review is about TokyoTreat's January box. It was sent in February but arrived in Spain just in the beginning of March. The box contained 15 sweet and salty snacks, soda, DIY candy kit and as a special item, January box had a New Year's Facial Art Mask.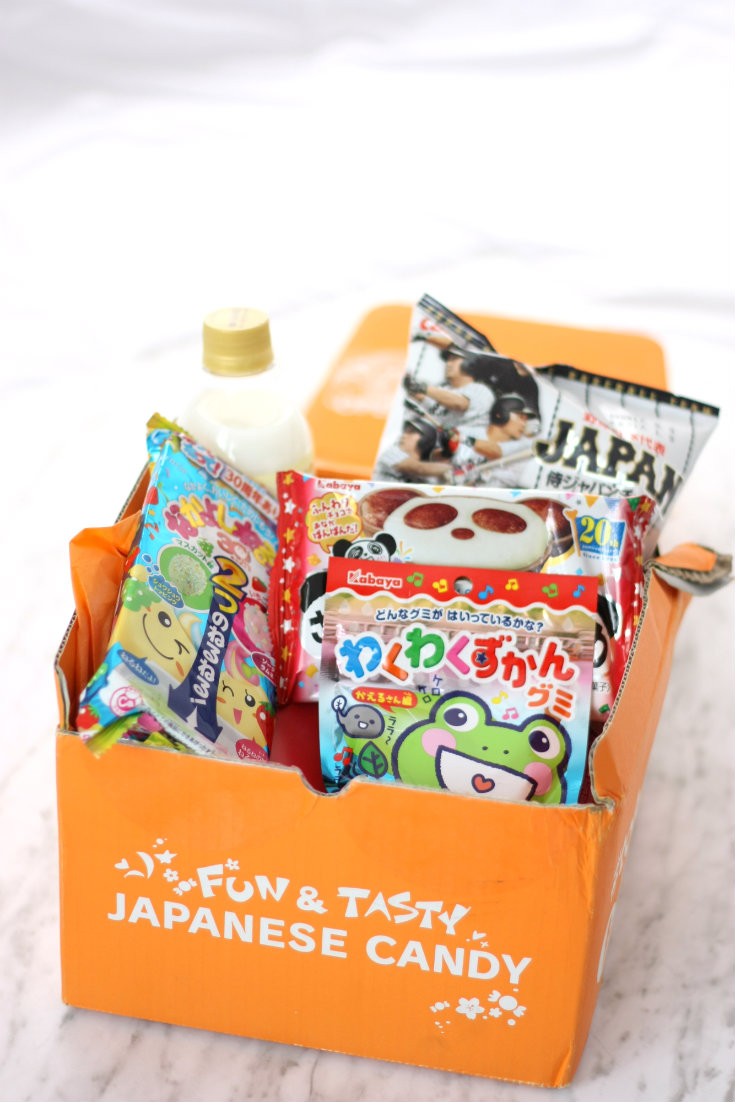 The contents of the January 2017 Premium Box: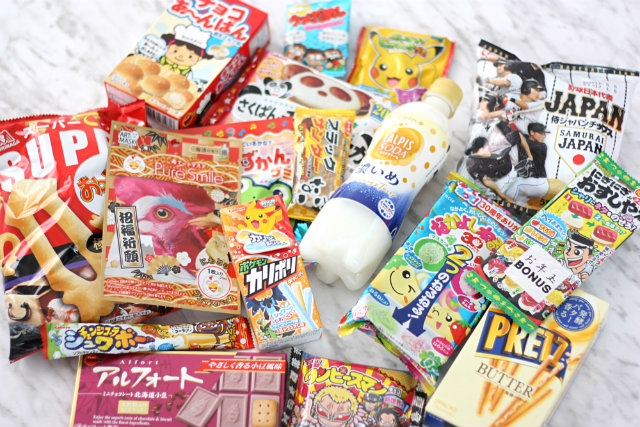 Get Your Japanese Snack Box Now!
Like last time, my 4-year-old daughter helped me to sample all the treats. This time, I also took some of the snacks to my co-workers. They saw my first TokyoTreat review and were bummed that I did not share the goodies with them, so I had to share January's box with them too! 😀
What never ceases to amaze me is the fun and colorful packaging of all these yummy treats! Wish our products here in Spain were packed in bright packets too! Oh, and the variety of odd but interesting flavors is huge too!
And now to the treats! Like last time, I'll bring out the favorites of mine and Sofia's. I'll also add a little note on products that my husband and co-workers tried too!
Sofia's favorites: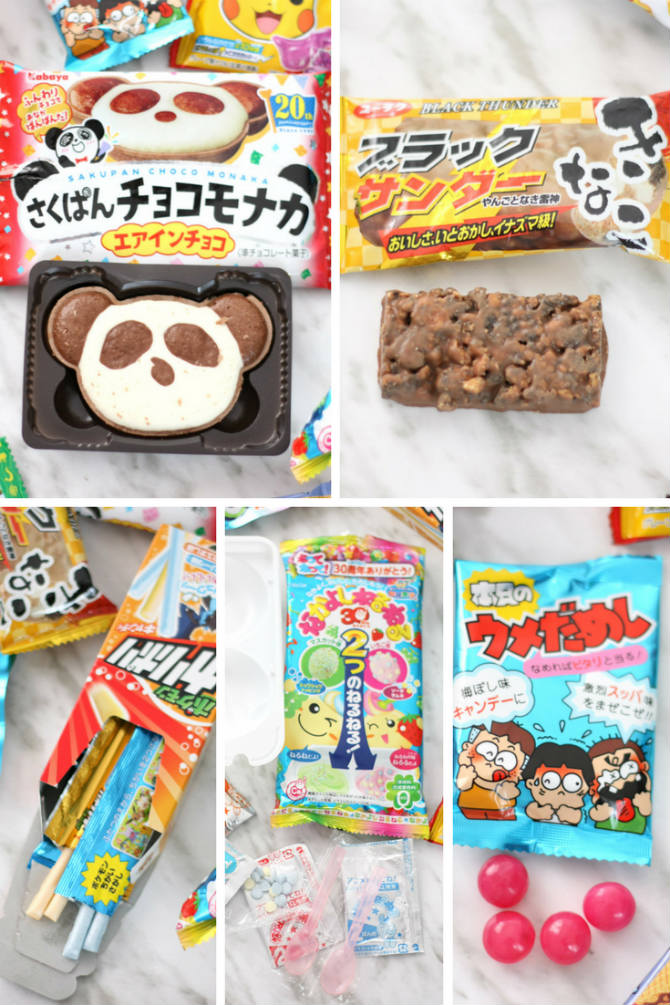 Sakupan Choco Monaka – this was Sofia's favorite snack. She gave it a small bite and told that it's really delicious but refused to eat more because she felt sorry for the panda. It's a thin panda shaped wafer filled with bubble chocolate and vanilla cream. We did end up eating it all a couple of days later, though! Delicious! 80.000 points from Sofia. 😀
Black Thunder (Kinako Flavor) – this snack reminded us rice Krispie treats. It contains chocolate cookie chunks, rice puffs and kinako (roasted soy flour).
Pokemon Stick Candy – These stick candies come in 2 flavors – soda and orange. The box contains 3 bags of each flavor and every bag has 2 sticks. We both loved these Pokemon Stick Candies! It seems that they fizz a little when in your mouth, super cool sensation. I also took a couple of these sticks to my co-workers and they liked them too.  80.000 points from Sofia again.
Nakayoshi Neru Neru Muscat Grape & Strawberry Flavor – Sofia is a big fan of everything DYI and she could not wait to give this kit a try. We liked mixing all the powders and see the colors change and how the mousse formed. The toppings were a big hit too! I took a couple of small bites but Sofia really loved it.
Sour Plum Fortune Candy – It says that every bag contains normal sour plum and super sour plum candies. We both tried these candies and did not find any super sour ones. So I guess we can consider ourselves lucky.
My favorites: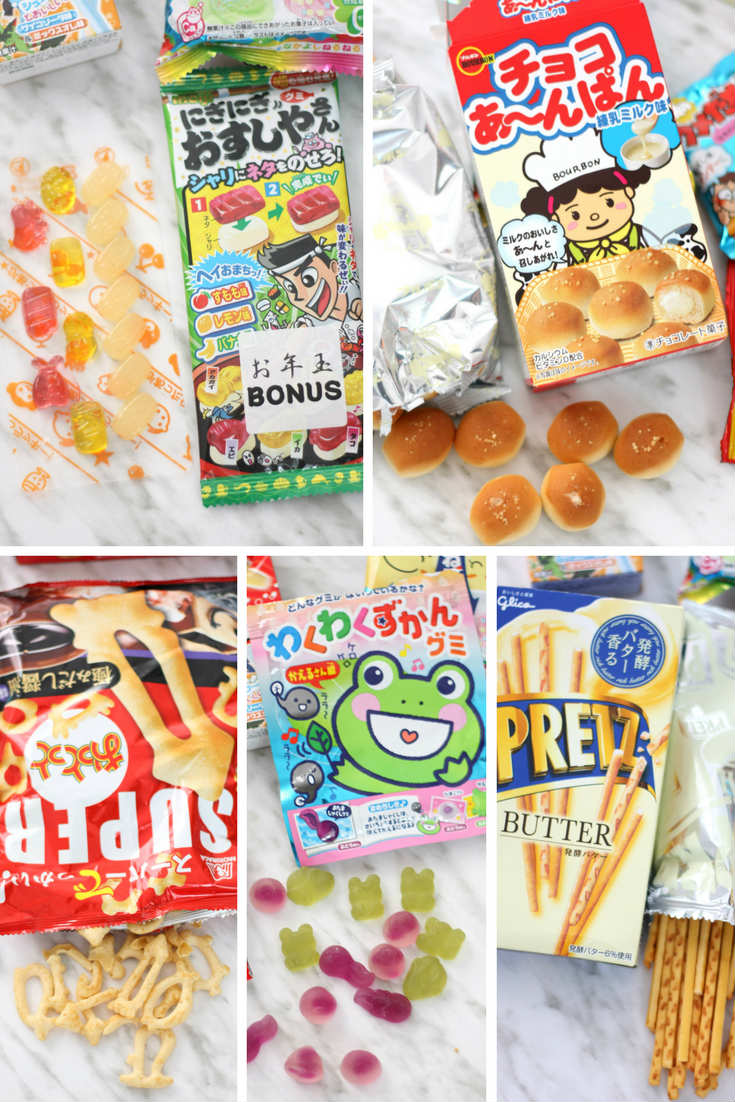 Bonus Snack – As adults in Japan give New Year money to kids, TokyoTreat added a special bonus snack to their January box. The bonus snack was a sheet of gummies shaped as sushi ingredients so you can create your own candy sushi! Super great idea and the gummies were delicious too!
Condensed Milk Choco Anpan – My favorites for sure! Anpan is a traditional Japanese pastry and the ones we got were filled with condensed milk! Sweet fluffy pastry and the condensed milk filling make them a perfect treat for snacking or meriendas. My husband dipped them in warm milk and loved them!
Super Ottotto Savory Soy Sauce Flavor – I love potato snacks and these Super Ottotto snacks are super savory! They come in fun sea creature shapes and taste lightly to soy sauce. My co-workers also loved these!
Frog Family Gummy – These gummies are super cute! I really like that these frog gummies come in different shapes so it's also an educational snack and gives the kids and opportunity to learn about frog's life cycle. These candies come in 2 flavors – grape and green apple.
Glico Cultured Butter Pretz – So tempting! These sticks are sweet and have a buttery taste. Really interesting and everyone who had a chance to try them really enjoyed them. The package brings 2 bags.
The products that did not get into the top 10 favorites:
These snacks are also yummy and we liked them too but we liked the above-mentioned treats better, so that's why they are not featured in our favorites.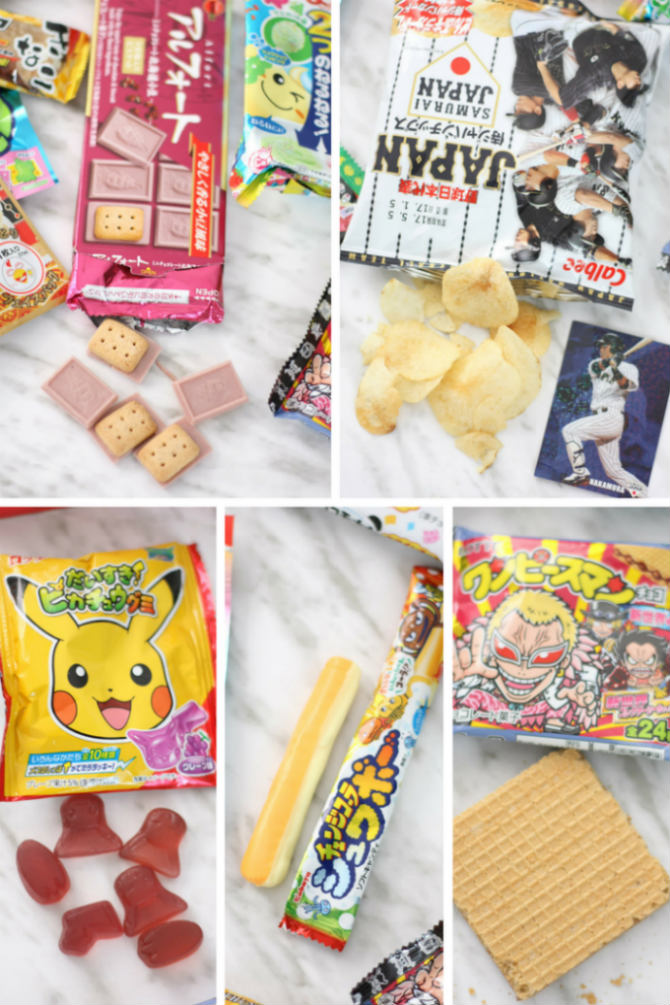 Alfort Chocolate Biscuit (Red Bean Flavor) – I have tried a similar Milka chocolate and really liked it. At first, this chocolate cookie combination tasted to coffee but when I read the booklet, I discovered that it's actually a red bean flavored chocolate. Really interesting! My co-workers liked it too!
Samurai Japan Chips – I mentioned before that I like potato snacks and these potato chips are yummy. They did not make into my top snacks because they taste like the potato chips they sell here in Spain. Outside the bag, there was also a Japanese national baseball team collectible card. We got Yuhei Nakamura.
Pikachu Gummy – Grape flavored Pikachu themed gummies. There were gummies shaped as Pikachu, it's feet and tail too.
Fizzy Soft Candy Stick – Orange & Lemon Flavor – This candy has a slight orange and lemon flavor and it fizzes in your mouth! The mix of candy and fizzy powder makes the candy taste like cola! We both loved it!
One Piece Chocolate Wafer – My husband ate almost all of it. These kids of chocolate filled wafers are really common here too.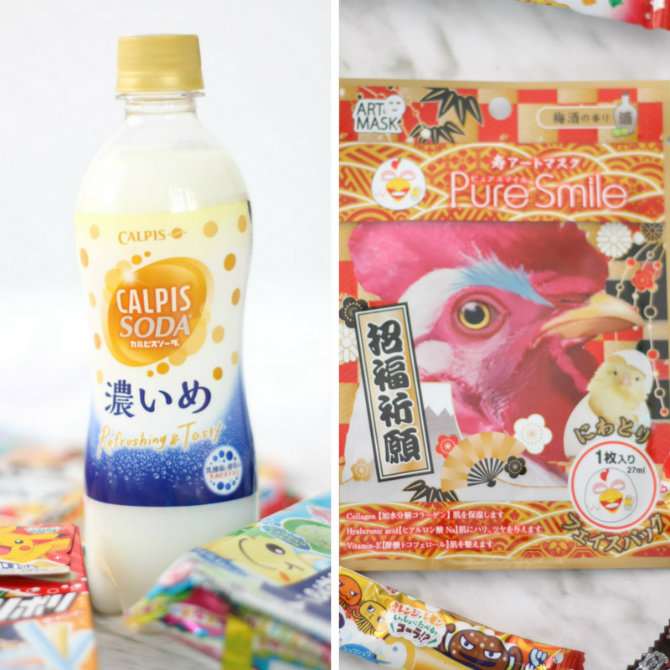 Rich Taste Calpis Soda – Calpis is a really popular Japanese lactic acid yogurt drink. I took this soda to work and tried to get my co-workers to drink it.  I found the soda quite nice and it tasted good. Some of my co-workers told that it tasted like carbonated milk.
New Year's Facial Art Mask – As a special item, TokyoTreat's January box brought New Year's Facial Art Mask. There were 3 designs – dragon, Japanese raccoon dog, and a rooster. I got the rooster one! I haven't had a chance to try it yet, but I'm sure that the combination of collagen, hyaluronic acid, and Vitamin E will work wonders with my skin.

Like last time, we had a lot of fun trying all these delicious snacks! We recommend you to give TokyoTreat subscription box a try! If you are not much of a snacker, these subscription boxes would also make a great gift for foodies in your life!
  Get Your Japanese Snack Box Now!
Which one of these Japanese snacks would you like to try?