*I partnered with iHerb on this post and it has been sponsored in compliance with FTC requirements. All thoughts and opinions are my own. Please note that some links may be affiliate links and we may make a commission if you purchase a product after clicking on a link. This doesn't affect the price, but we appreciate your support in this way!
This month's iHerb haul is a little bit different from the past ones, as, for this haul, I have an honor to partner with iHerb and bring you some fantastic snack ideas. Below you'll also find a special button for $5 off of your first iHerb order.
I'm sure that a lot of us added a notion of losing weight or eating healthier to our New Year's resolutions or goals for 2017. How is it going for you? I have to say that I'm staying on track but I do have some problems with snacking. I love snacking, but eating veggies, fruit, and nuts get boring after some time. I need variety and here is where iHerb lends us a helping hand!
iHerb offers a huge variety of snacks for different diets and menus – gluten free, low carb, nut-free, vegan, paleo to just name a few. So for all those people out there who are trying to eat healthy or due medical conditions have to be on a strict diet, I want to say that you don't have to stop snacking! I'm sure you'll find something suitable for you too! Just go and have a look!
About iHerb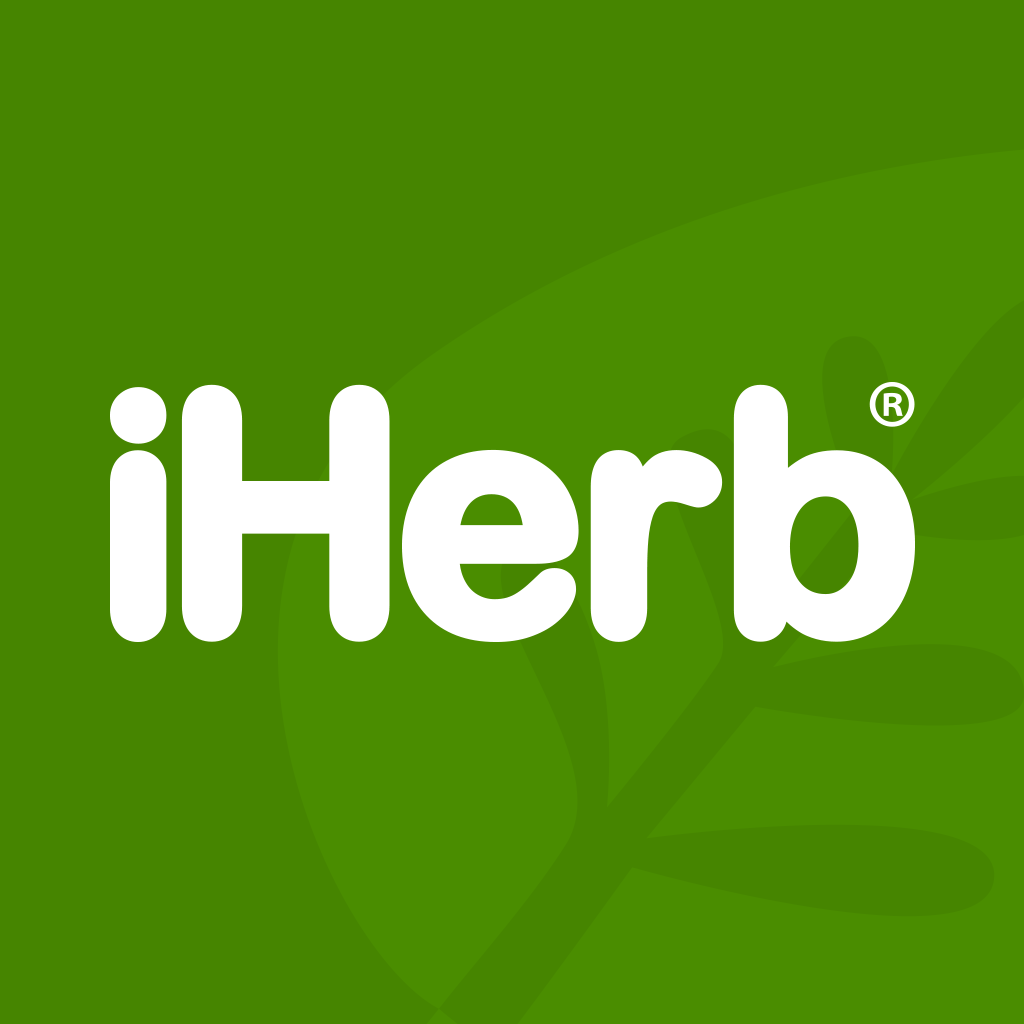 I have talked about iHerb before, and you know I'm a huge fan of theirs. iHerb is an online retailer that sells nutritional supplements as well as beauty, cleaning, food and baby products. A wide range of their products is eco-friendly and organic! They offer products that are not available or are really difficult to find here in Spain and the prices are amazing!
Shop iHerb Now & Get $5 OFF Your First iHerb Order!
Here are the things I really like about iHerb:
Huge selection of products (they sell over 35,000 different products)
Super affordable prices
Daily and weekly deals that give you up to 60% off on some products
Fast shipping
Ships to over 160 countries!
Great Customer Service team and really fast response time. By the way, they provide support in 10 different languages.
iHerb is a Google Trusted Store
Rewards system – recommend iHerb to your friends and earn rewards
Accepts PayPal
The Snacks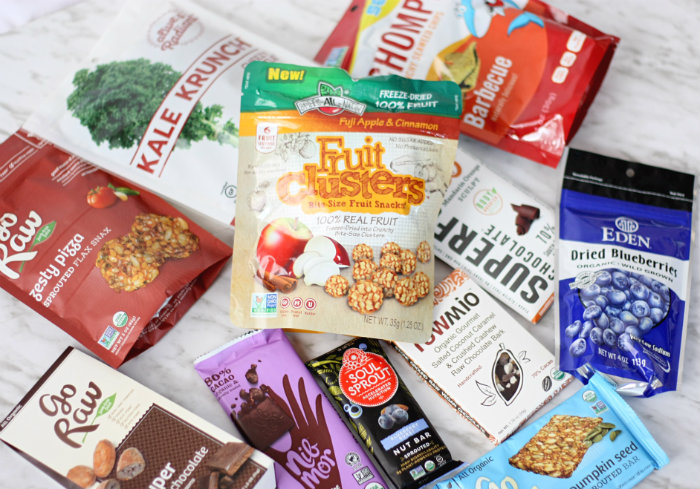 In this challenge, I tried to get as many snacks as possible for $50. I got 11 different snacks, but you can get much more – chocolates, nut bars, nut butters, fruit and veggie snacks among thousand of products iHerb has to offer. The prices are really affordable and I'd love to see what snacks would you get with $50. You are welcome to share your favorites in the comments!
I chose the ones that captured my attention and the ones I had not tried yet. If you have read my iHerb hauls before, you know that I have shopped for some food items in the past. Like I mentioned above, my usual snacks are fruit, veggies, and nuts but thanks to iHerb I have found a great variety of healthy sweet and salty snacks for every occasion.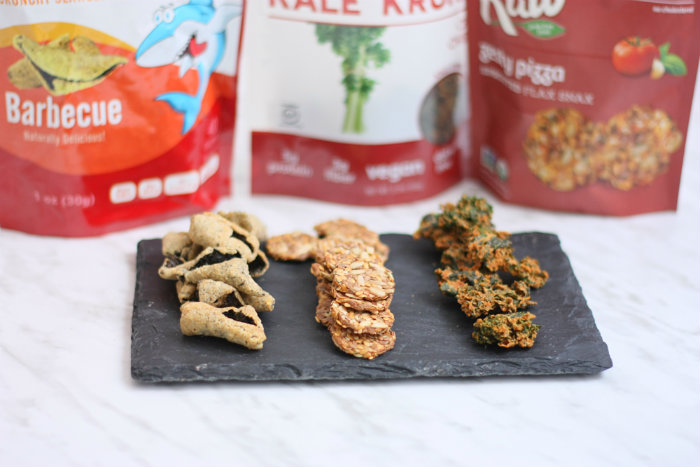 SeaSnax Chomperz Barbecue Crunchy Seaweed Chips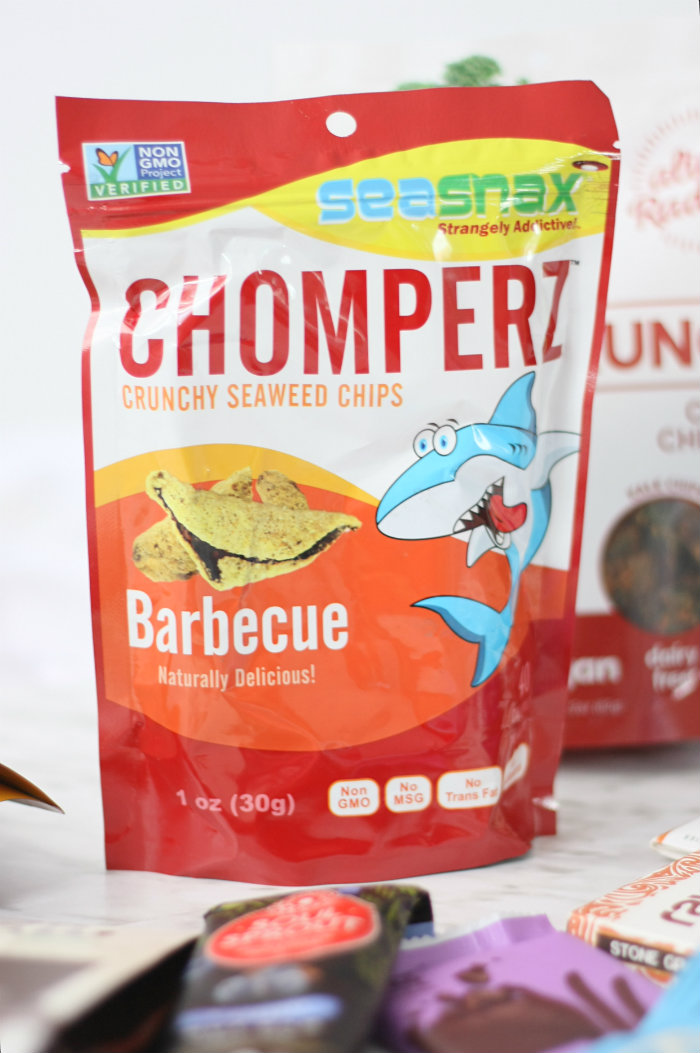 I'm not a big fan of seaweed but I do love a good barbecue. So when I saw that these Chomperz seaweed chips come in a barbecue flavor, I knew that I had to give them a try. Basically, these are seaweed curls covered with a layer of baked rice flour and then seasoned with a smoky barbecue flavor. They are crispy and crunchy and you hardly notice the seaweed flavor. And they are only 40 calories per serving! These chips come in onion and jalapeño flavor too!
Go Raw Pizza Flavored Organic Flax Snax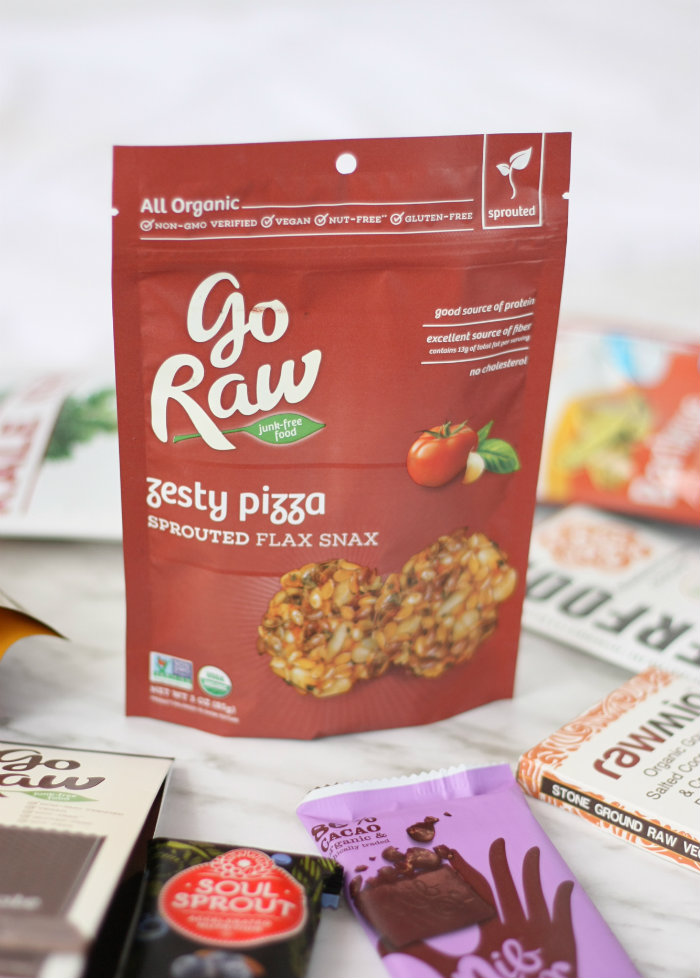 Who doesn't love pizza?! These Go Raw pizza flavored Organic Flax Snax are a must for pizza lovers – you can still have the delicious pizza flavor but without all those empty calories. This flax snack is 100% organic, raw, kosher and vegan. It contains 5g of protein per serving and is a great source of Omega-3 and Omega-6. The flax seeds in this snack are sprouted, so they are easy to digest.
They make a great snack on their own or can also be crumbled and added to salads for a healthy crunch.
Alive & Radiant Cheezy Chipotle Kale Krunch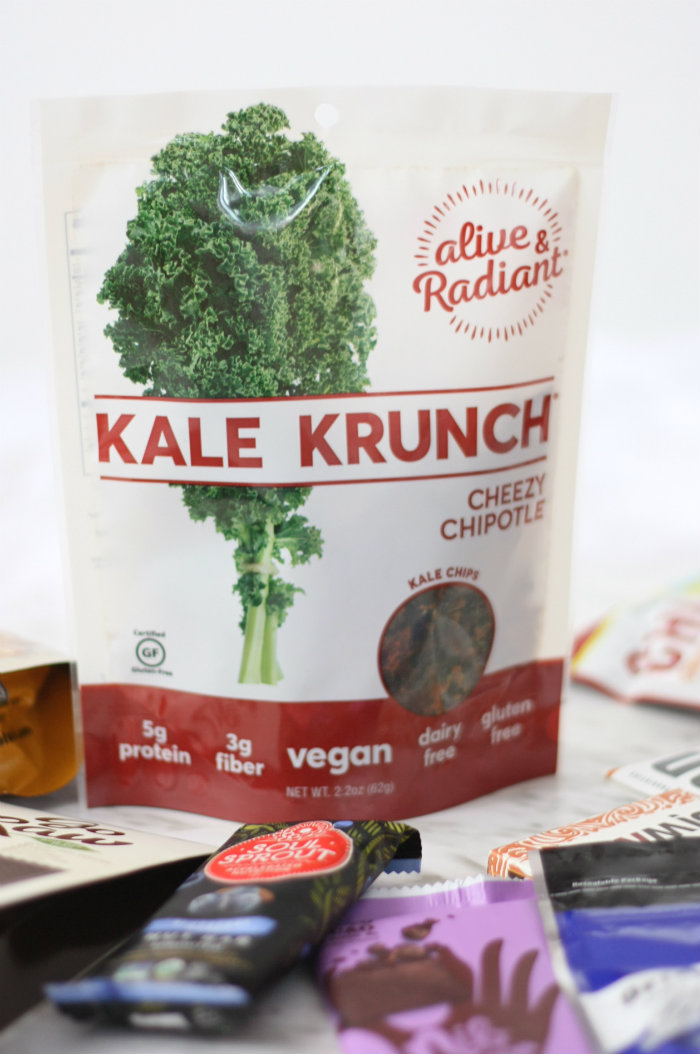 I had never tried kale before (super hard to find here) and had no idea what to think about this leafy green. These kale chips are savory and a little bit spicy for me. They are perfect for healthy snacking as the serving size contains 5g of protein and 3g of fiber! Kale Krunch is also an excellent source of vitamins A, C & K. Alive & Radiant, Kale Krunch, Cheezy Chipotle chips are vegan, dairy and gluten free and contain no trans fats!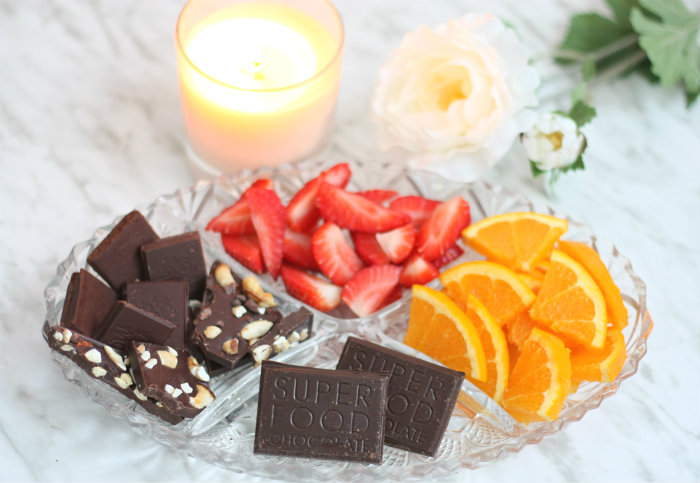 And now to the best part – chocolates! While chocolate might be considered an unhealthy snack, it actually does not have to be like that! All these chocolates mentioned above are healthy and would make a great gift for chocolate lovers!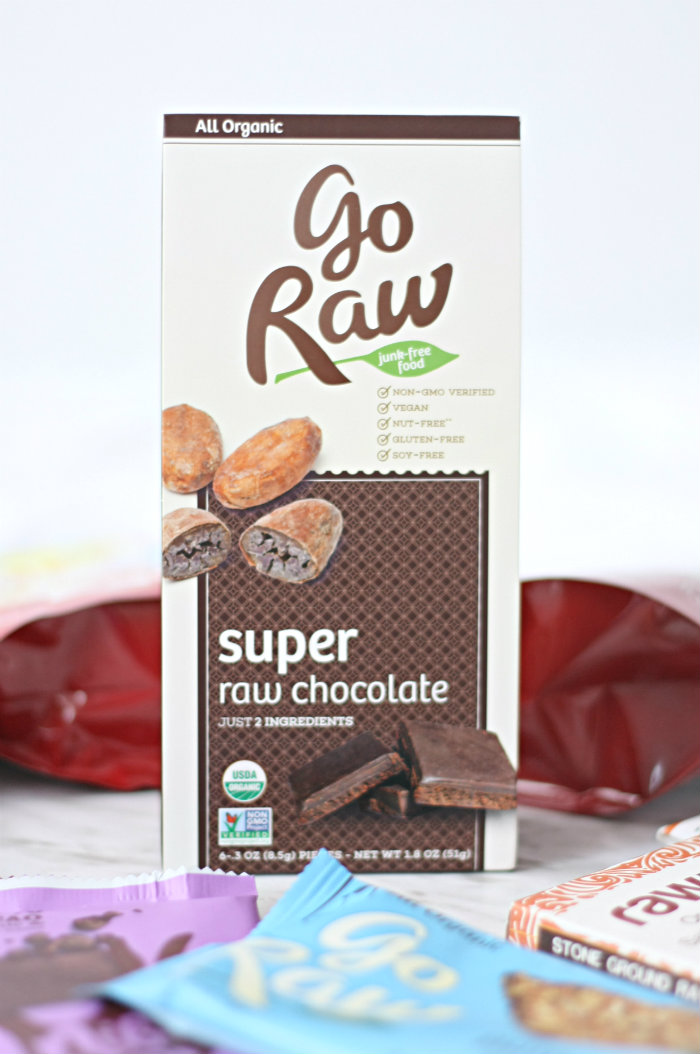 I'm not a big fan of dark chocolates as they are too bitter for me, but these little chocolate bites are so luscious! They contain just two ingredients – raw organic cacao and raw organic agave nectar. They are not at all bitter and have a fudge like consistency! One piece will be enough! These chocolate treats are 100% organic, vegan, gluten free, dairy free, soy free, kosher and nut free. Absolutely mouthwatering!
Good Superfoods SuperFood Chocolate Mandarin Orange Sculpt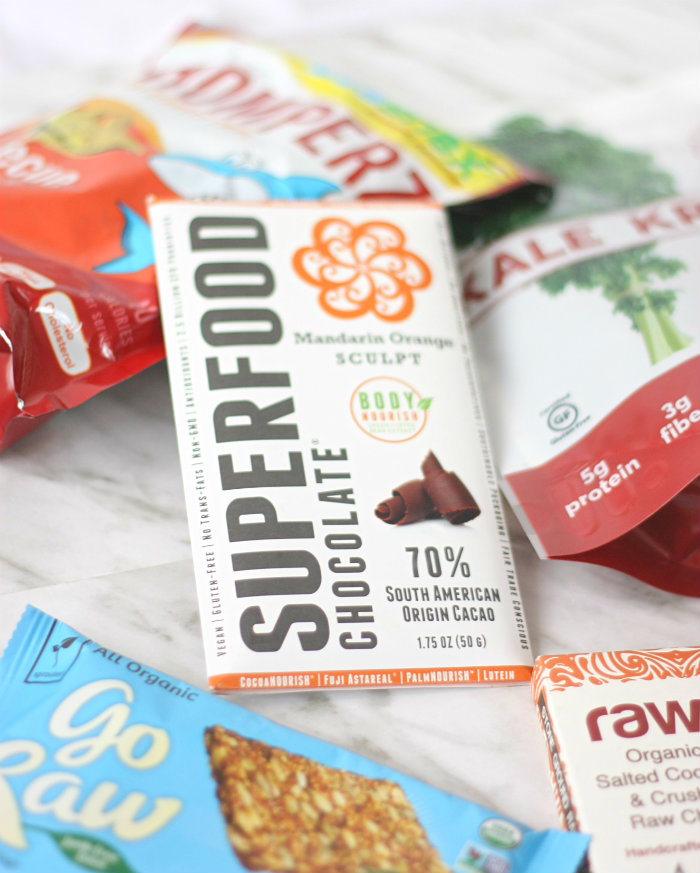 This chocolate is a real superfood! From the cacao from South America to the vanilla from Madagascar, this chocolate is handmade and contains the best ingredients from all over the world. I really love the delicate mandarin orange scent and flavor! This chocolate is all-natural, without additives and preservatives.
Nibmor Organic Dark Chocolate with Cacao Nibs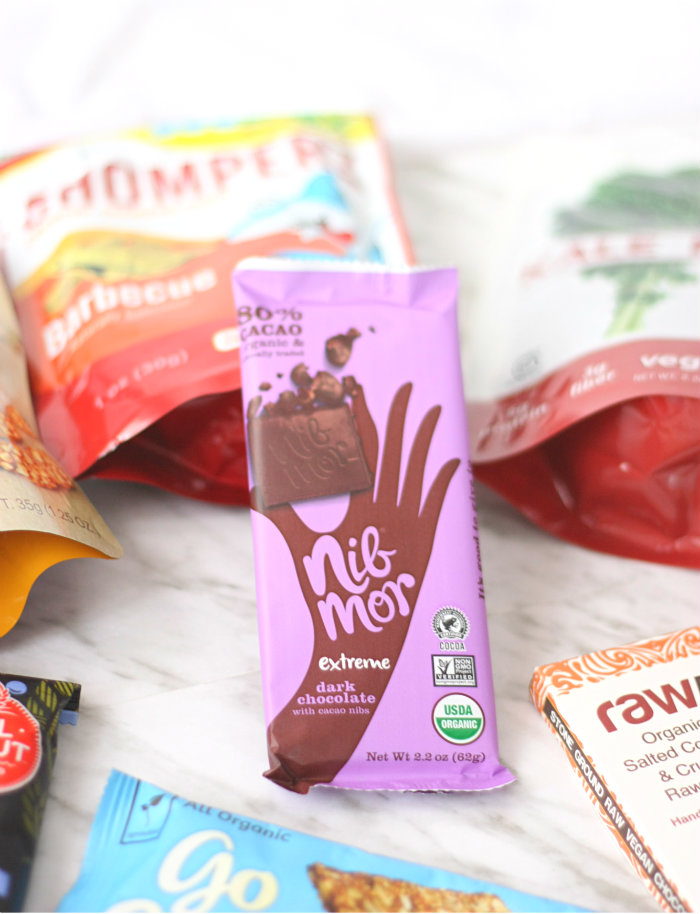 I really like companies that give back, and Nibmor is one of them. They use Rainforest Alliance Certified cocoa, that way helping protect the environment and farm families.
Even if containing 80% of cocoa, this chocolate is not at all bitter (just in case you did not know – I'm usually a milk chocolate kind of girl). The cacao nibs give the chocolate a delicious crunch and intensify the chocolate flavor. It's organic, vegan and gluten free!
Rawmio Organic Gourmet Salted Coconut Caramel & Crushed Cashew Raw Chocolate Bark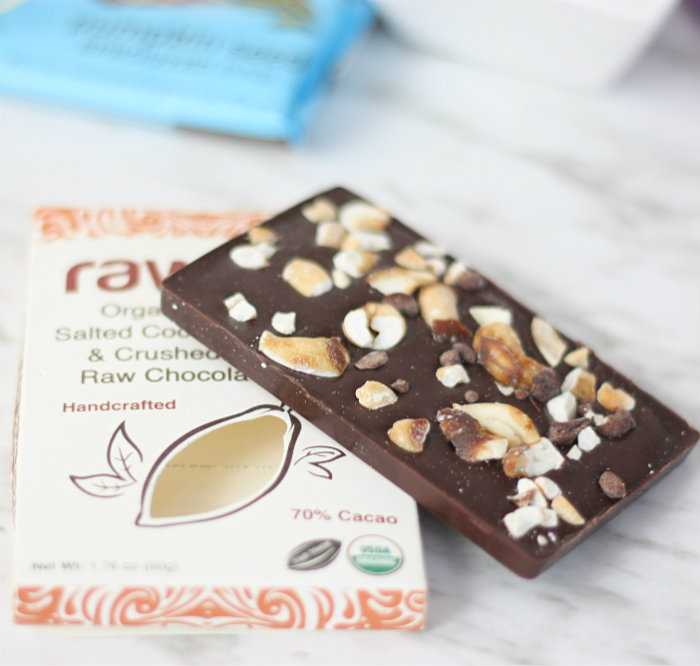 I have tried chocolate bark before, but never something this rich! Rawmio uses ancient stone grinding technique to mix and break down all the ingredients to make divine chocolate treats. This chocolate bark is handmade and uses Fair Trade certified organic ingredients. These bars contain 70% cacao and delicious sea salt-infused coconut caramel-coated cashews. The chocolate bark is vegan, raw and kosher.
Brothers-All-Natural Fuji Apple and Cinnamon Fruit Clusters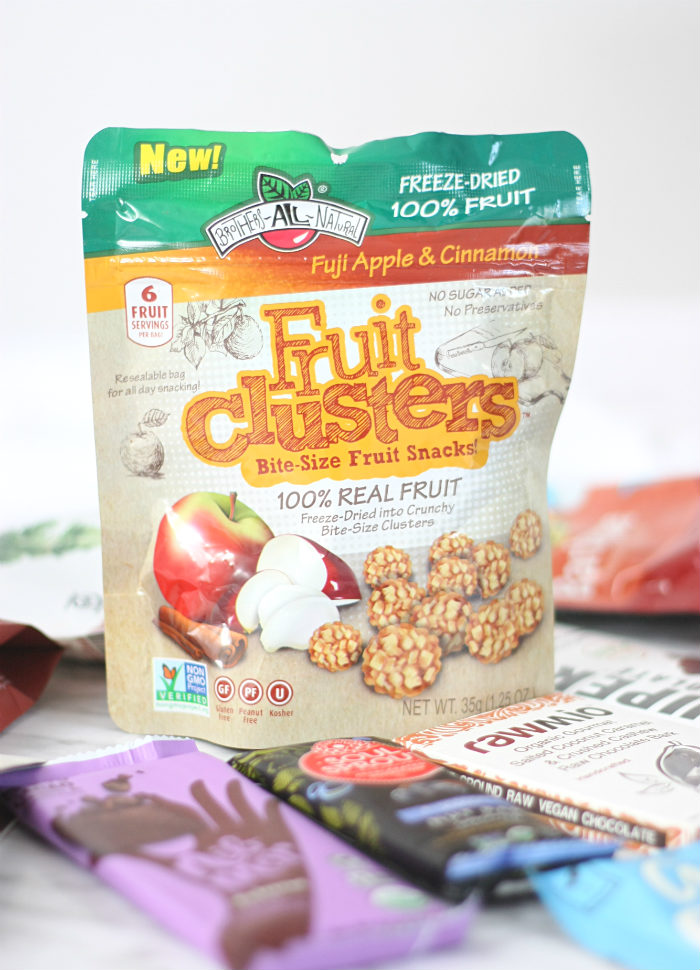 We have tried Brothers-All-Natural products before and we really like them! They make perfect snacks for road trips, for school lunches, for after school activities and whenever the hunger strikes. My daughter usually has them as an after school snack with yogurt. Perfect for picky eaters too!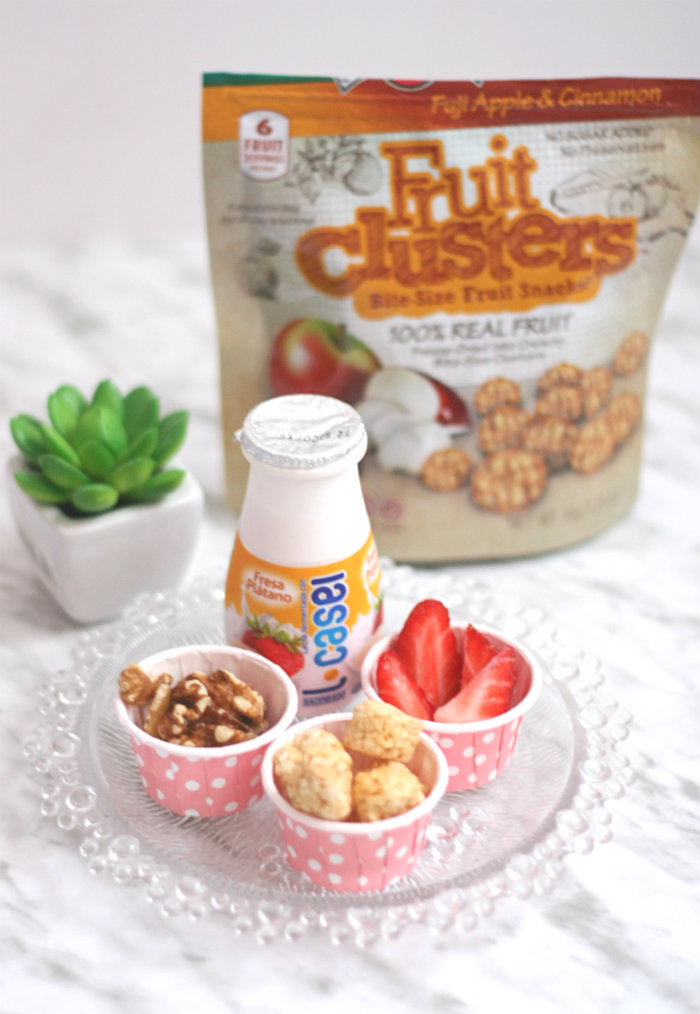 The package contains 6 fruit servings and has no added sugar or preservatives – just the freeze-dried 100% real fruit! These snacks are gluten-free, dairy free, kosher and vegan.
Go Raw Organic Pumpkin Seed Sprouted Bar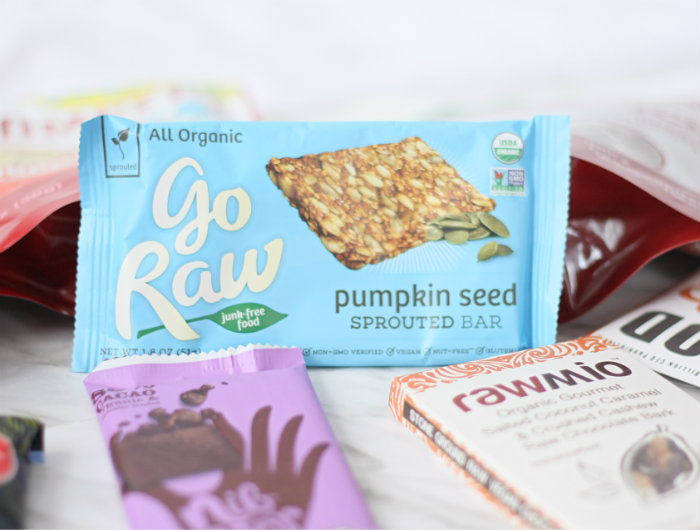 I thought that this pumpkin seed bar would be salty, but it actually contains dates and agave nectar, so it has a hint of sweet there among all the seeds. This bar is high in fiber, Omega 3, Omega 6, and low in carbohydrates. Go Raw, Organic Go Raw, Pumpkin Seed Sprouted Bar is organic, vegan, gluten free.
Two Moms in the Raw, Blueberry Burst Nut Bar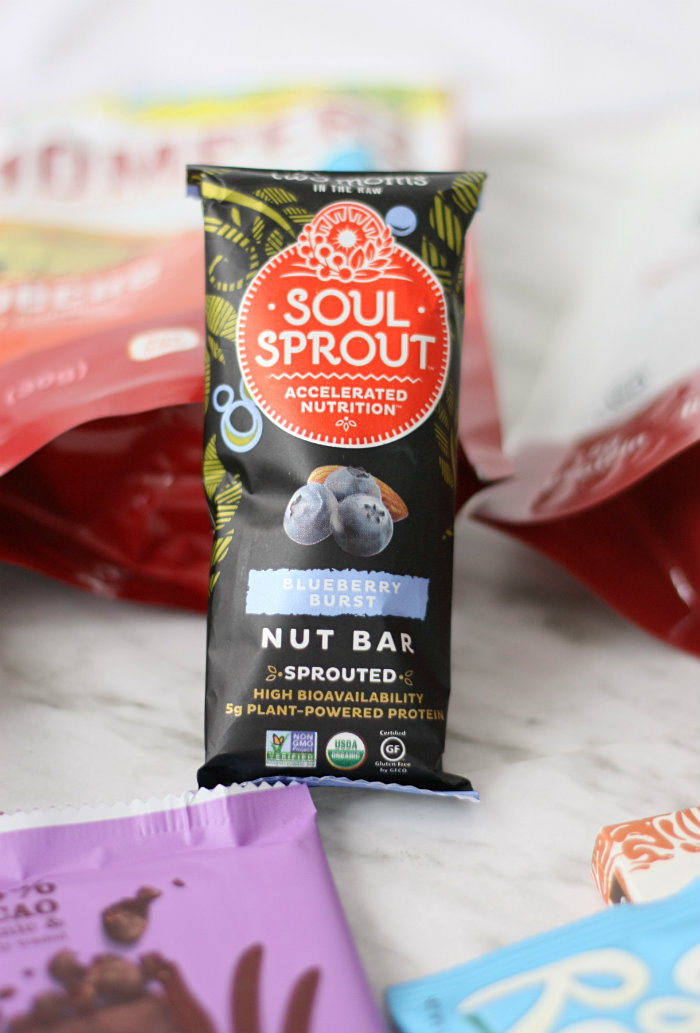 First of all, this nut bar is the best one I have ever tried! It's full of flavor and so delicious! I really have to try their other varieties too!
These nut bars are sprouted, which means that the nutrients absorb faster and they are easier to digest. These bars contain sprouted almonds, pecans, walnuts, organic blueberries, organic date paste, organic raw chia seeds among other healthy ingredients. They pack a 5g of protein, are vegan, kosher and gluten-free.
These bars excellent when on the go or after exercising. I will add a couple of these to my carry-on bag when traveling!
Eden Foods Organic Dried Blueberries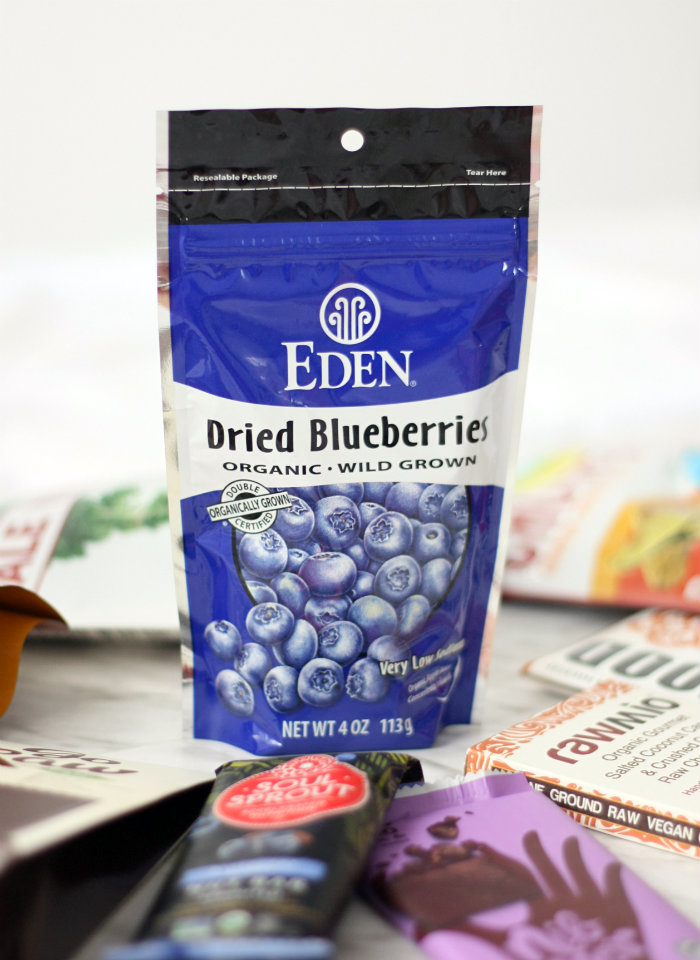 When I was a kid, we ate a lot of wild blueberries during summer. Those stained mouths and fingers! I haven't found wild blueberries in our supermarkets during the 10 years I have lived in Gran Canaria and boy, how I miss them.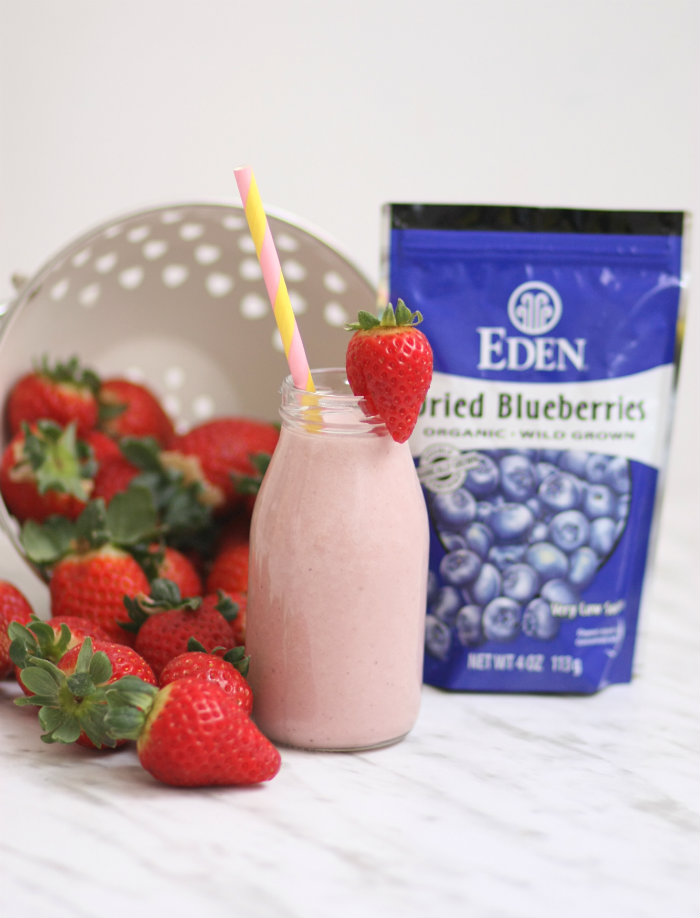 We used Eden Foods Organic Dried Blueberries in a smoothie!
This was the priciest snack in this haul and it's really worth the money. These blueberries are wild and have been hand harvested. They are high in antioxidants and very low sodium. Perfect for snacking by itself, adding to trail mixes, homemade granola or for smoothies.
Shop iHerb Now & Get $5 OFF Your First iHerb Order!
What are your favorite snacks?