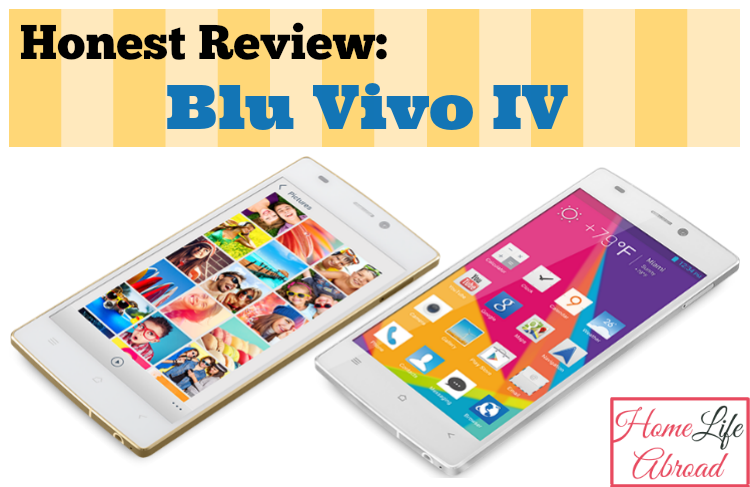 So the time came to replace my old and trusty Samsung Galaxy SII, and I started looking at options. The Samsung Galaxy S6 Edge looks killer good, but that price… it was more than I was open to spending on a new mobile phone. And then, I was presented to Blu, an American cell phone brand that creates supposedly quality phones at a low price.
I took a look at the specs of the Blu Vivo IV and on paper, it looked amazing. Great resolution, fast, beautiful, lightweight, thin, and ONLY $200. Yeah, that's crazy cheap for a phone they claim is as good as the Samsung S5.
So I made the unfortunate decision to buy the Blu Vivo IV mobile phone. Now I regret it… too many issues and problems and no way to fix them. I find it important to make it public so others can make a more informed decision on their purchase.
Since Blu is not a well-known brand, you won't be able to get many honest reviews or feedback on their cell phones. Well, here is one very honest review. I purchased this product, I wasn't paid to post about it nor did I receive anything free or anything in exchange for this review. It's my honest opinion after using the cell phone for a month and a half… here is the good, the bad, and the ugly.
The GOOD
The Blu Vivo IV is a damn beautiful cell phone. It's ultra thin, very lightweight and has a big screen. I got the white and gold Vivo IV and it's beautifully designed as far as the outside.
Screen resolution is awesome. The screen is 5″, which most people would like, but I would have preferred a phone that can fit in my pocket. Resolution is 1080×1920 pixels and it looks great.
The cell phone moves fast. It works smoothly and quickly. I haven't had any issues with it getting stuck or becoming slow, at least so far.
There are some cool apps in the phone, including system manager which lets you clean the memory or cache with a quick shake.
Love the "FakeCall" option. Click on it and you will receive a fake phone call to get you out of bad situations.
The front and back cameras are good. My boyfriend thinks they are much better than I do. I've been taking pictures here and there and I'm overall pretty happy with the colors and resolution.
There is a recording option for phone calls, which I LOVE more than words can say. I can record my phone meetings or annoying spammers.
Price is amazing ($200 at B&H, varies at Amazon)… but then again, you get what you pay for and in this case, I got a phone with a non-functional GPS, constantly cut-off calls, and bad battery life.
The BAD
The gold-colored borders chips all the time. I started noticing little chips about the second day of use, and it's not like I'm not careful with my cell phone. It was just in my purse and protected!
The screen is black in sunlight, no matter what brightness you set. It's just close to impossible to see who is calling you or to text someone in the sunlight. There's barely any visibility unless you head towards shade or go inside a location.
Tremendous overheating of the mobile phone on the top half, especially when using apps. It's frustrating during phone calls as it warms my ear and my hand.
The OS is not typical Android – they personalized it so it's different. You can't remove existing apps from your home screen (I just stuffed them into a folder) and you can't place any widgets. You are also forced to have a weather widget on the home screen. The only way out of this is to download a separate launcher app.
The battery is not removable which means I can't carry an extra battery with me just in case it depletes.
The UGLY
The box did not come with two mentioned products (case + screen protector) which make me think I may have been sent a refurbished phone instead of a brand new one.
GPS is useless. It does not work. It relocates your position 5 times within 20 seconds, it's always wrong by about 1-2 blocks, and it loses connection at least once every 4 minutes (sometimes every few seconds). Numerous reviews have mentioned the EXACT same problem with the Vivo IV so it's not a flaw unique to my mobile, it's standard on every Vivo IV.
The screen is overly sensitive. During phone calls (whether I'm using the phone or someone else tests it), the screen lights up and my cheek consistently and unintentionally presses on hold and redial buttons. This has happened on over 80% of phone calls made thus far. I've started using the speaker to avoid it.
Battery life is bad. Real bad. I read reviews about that before purchasing and I was hoping it was an exaggeration I could deal with. Unfortunately, I have to carry a charger with me or else I risk not having battery after 7-8 hours. Take into account this is a NEW phone and it should last longer. If the phone is 'asleep' and not in use at all, it will last throughout the day. However, if I use a few apps here and there (i.e. texting, calling, checking Facebook, playing a game for 15 minutes), the battery can deplete quickly. With minimal use, I can end up with 5 hours of battery life. If I use the phone non-stop, the battery will last maybe 2 hours.
Customer service is AWFUL. Worst I have ever experienced with any mobile company. I told them about the problems I was having with the *new* cell phone and their recommendation was for me to pay shipping to send the cell phone back so they can check if these issues are within their guarantee. If they sent me a faulty phone, I feel it's their responsibility to cover payment for shipping or at least offer to return the cost if the issues fit within their guarantee. They also take numerous days to respond, and it reads like copy/paste response templates. I'm pretty sure they are aware that the Blu Vivo IV has numerous issues as many people commented on the exact same problems, so it's not that my cell phone is particularly buggy, they all are!
Bottom Line
Considering that the GPS doesn't work, battery life is bad, and there is a screen sensitivity issue, I cannot recommend the Blu Vivo IV. If you don't care about those issues and you're looking for an affordable cell phone, it may be a good choice. However, if you want a fully functional phone that has a good GPS & is useful for speaking, stay away from the Blu Vivo IV and look for better options.