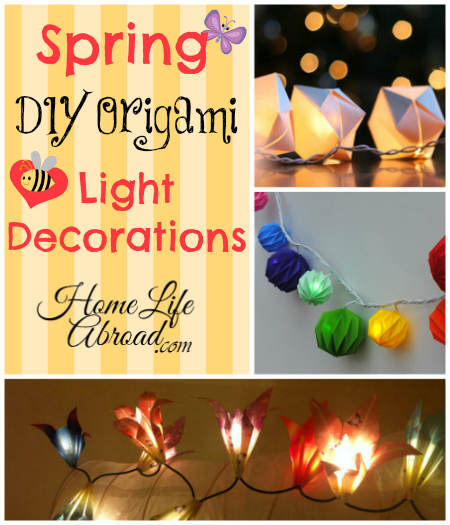 It's finally spring time! The weather has been amazing in my corner of the world – warm, sunny, fresh air and slight bits of warm rain coming down every so often. I'm excited that the cold is long gone – it lasted too long. Plus, I can finally host people in our garden and even make some delicious BBQs. I'm happy just being able to relax in the backyard, really!
I love to decorate my garden during the warm seasons and create a beautiful and relaxing ambiance. There's a little known DIY paper craft that you can easily make with your old Christmas lights and some origami skills. If you haven't done origami before, don't worry! You can always find detailed instructions to follow online.
The first step you need is, of course, the Christmas lights. I bought mine at ChristmasLightsEtc.com since they have some really good deals in low-demand seasons. You can obviously use your own lights if you have any stored from Xmas!
Now that you're pumped up and ready to make your DIY origami lights, you need to decide what color lights you want for the decoration: Do you want white lights? The standard Christmas red & green lights? (Your decoration will probably look very Christmas-inspired) Maybe multi-colored? Your color pick will affect the look of the decoration, so make sure you think it through!
You also want to consider the type of lights. There are smaller bulbs, stronger lights, net lights, icicle lights, animated lights, twinkle lights, garland lights, and even more options available. As you can see, there are numerous options to look through!
Next up, is the origami design.
There are so many fun origami designs that you can create that will look beautiful placed on the lights. Personally, I love multi-colored flowers as they make for a very spring-inspired garden decoration.
You don't have to limit yourself, though; there are so many origami patterns and ideas, each creating a distinct look to the decoration and having their own appeal. You can even use them inside your home on the walls, on the table, or wherever else you desire! Of course, as a priority, you want to make sure that whatever paper you chose is not flammable and can handle the heat of the bulbs.
I've collected a few of the best DIY origami light decorations I've found online. These have all inspired me – I hope they inspire you, too!
Have you ever made origami light decorations? Tell us about it below!