If you read my prior article on remodeling my kitchen, then you know what I'm up to. My kitchen has looked exactly the same since the 1950s when my grandma bought this home. A remodel was long overdue and I'm glad that I'm finally acting on it.
The decision-making process has been more complicated than I expected. I'm no interior designer, so I'm learning everything as I move along. Now that the flooring has been selected and I'm about to decide on the kitchen hardware, the next step is the walls.
I was looking at a few beautiful options of what I could do for my kitchen and I've been inspired by different ideas that I spotted online. I've made a few decisions already as far as the colors I'm interested in but now there's more to go through!
Idea 1: Wallpaper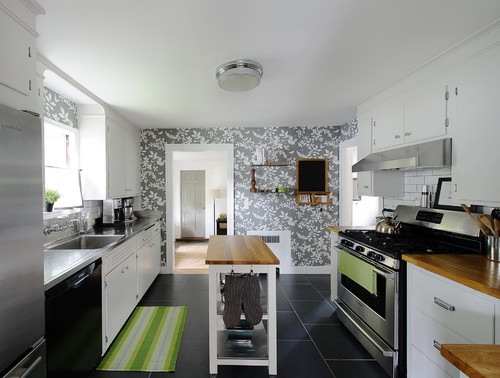 Image Source: E.R.Miller Designs on Houzz.com
I quite like the idea of using wallpaper. It seems easier to work with than paint and most likely a lot easier to clean up as well. Also, I can use a thematically-relevant pattern, like the corn cob curtains in The Simpsons' kitchen. 🙂 I don't want to go full-out cliché or have a strongly-themed wallpaper. I much prefer something lite and pleasing to the eye, like the picture above.
I did some research and found this site Wallcover that ships here and has good quality kitchen wallpapers so I think this may be the winning option. If anyone has ordered from them before, please let me know in the comments below! Feedback and reviews are always helpful.
Idea 2: Backsplash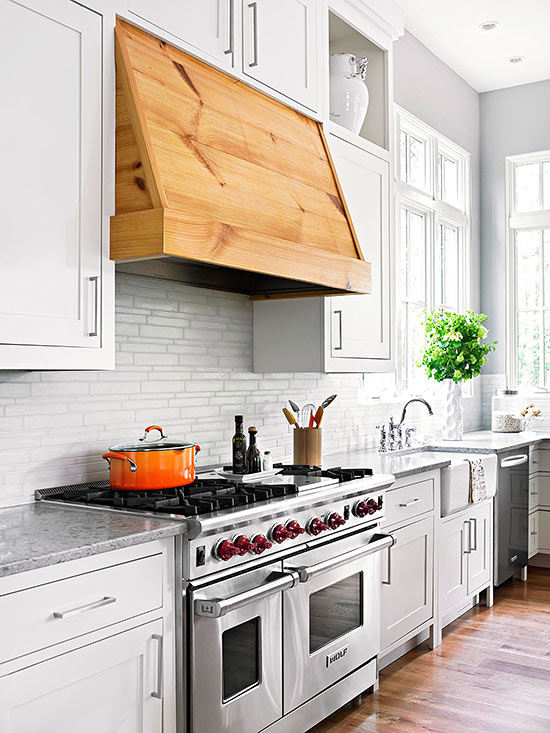 Image source: BHG
I've never had a 'formal' backsplash. Right now, behind the sink and stoves, there's only regular, blank wall and it's quite dull and gets dirty. So I'm looking forward to installing a brand new, shiny backsplash there.
The question is.. which type? Do I want a gorgeous tile pattern made up of different blocks in different colors? Or one fresh, shiny single-color backsplash? There's just such a wide variety of options available, and it can get overwhelming. I need to put some time into evaluating which backsplash will work well with the new hardware and the wallpaper color and pattern. I'm really liking the clean, contemporary look of the one featured above.
Idea 3: Installing shelving on the walls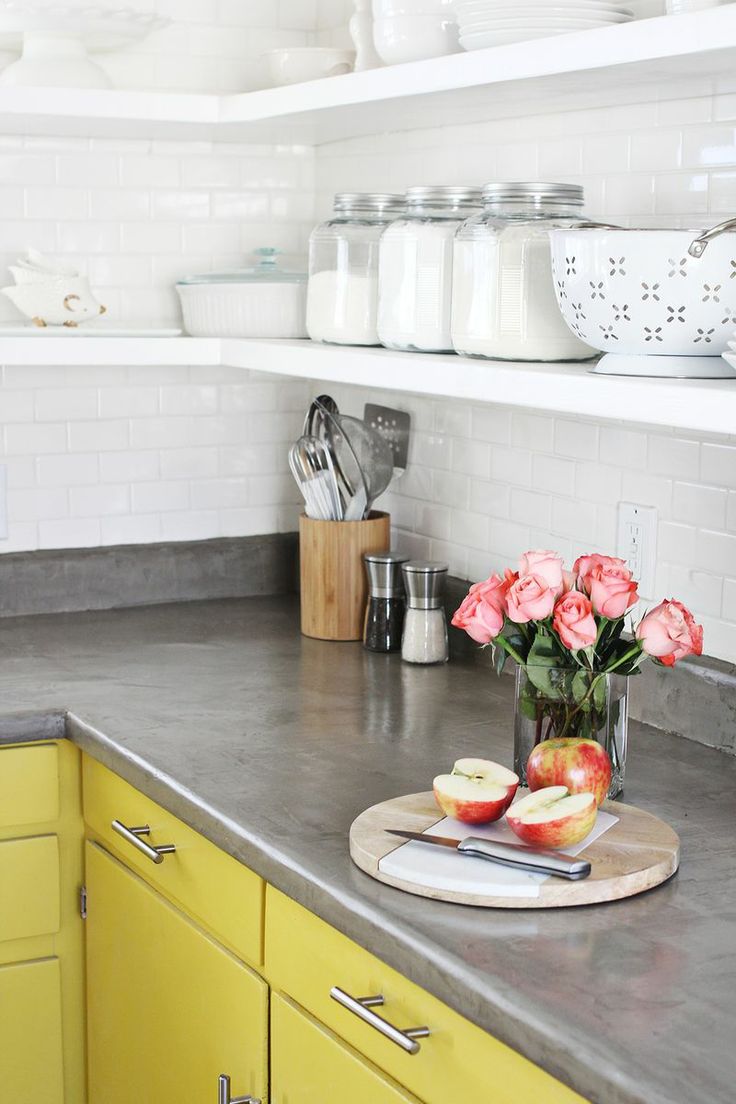 Originally, I wasn't even thinking about doing this but after I saw the image above, I was sold. I LOVE the way this looks – it's so practical! I knew I didn't want our walls to stay empty – after all, storage space is always necessary, but I wasn't sure how to go about it. The way these shelving panels are placed on the wall, they are completely unobtrusive to the kitchen counter, which is great because I hate things being on my way when I'm prepping.
I can place important elements there – sugar, salt, coffee, spices… the items I need constantly and should be in an easy-to-reach position. Plus, I like that I can put a few decorative pieces there as well, just to make the kitchen feel homier. Maybe a picture of the family eating a meal. 🙂 That seems very much in place!
The picture is from A Beautiful Mess and it was intended to show off the gorgeous DIY countertop they embellished, but it's the shelving that took my heart.
I'm very excited about the changes in the kitchen!
I would love to hear your input – do you have any suggestions for additions to the kitchen? Have you remodeled your own kitchen? What should I keep in mind?