I know that the school year hasn't finished yet, but between waiting for the college acceptance letters and summer vacations the time flies by so it's a good time to start considering your kid's housing options for college. If you decided to choose a dorm, this post is for you!
With their tan or white color schemes and modest wooden furniture, dorm rooms don't leave you much to work with. College costs a lot and putting money towards sprucing up your student's room shouldn't be at the top your to-do list.
However, with a bit of creativity, you can transform your child's dorm room into a functional, beautiful, exciting oasis—without all the cost. Check out these tips for a dorm room on a budget!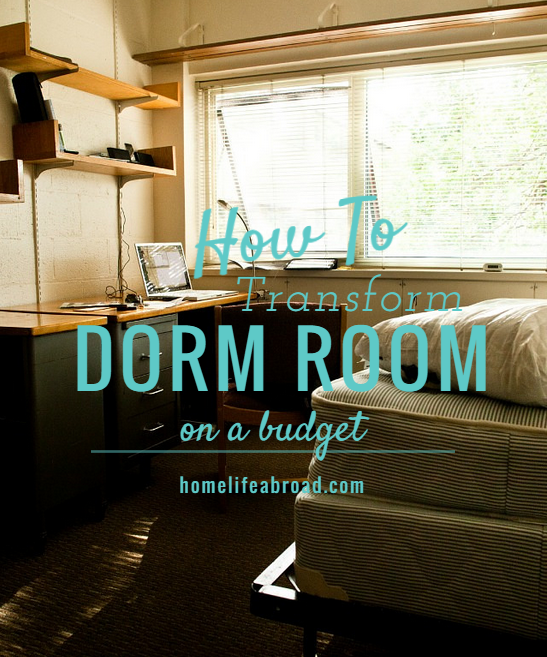 1.   Think Color and Theme
Before you head to the store or search online shops talk with your student about what kind of dorm room might be appealing. For some, moving out of the house is the perfect time to shed outdated, juvenile patterns. Suggest mature ideas like minimalist black-and-white, shabby chic, or a '30s "flapper" look. The choice of color and/or theme will dictate the rest of your shopping list. Be sure to remember that dorm rooms are minuscule when you are making your shopping list and also try to avoid these shopping mistakes.
2.   Prioritize Bedding
Bedding is the first thing anyone will see in a dorm room; it sets the tone for the rest of the room. Look for bedding that is versatile and easy to clean but still possesses that WOW factor! Throw pillows and shams add a grown-up touch while quilts and throw blankets can create a homier feel. Remember that many college beds require twin XL sheets—make sure you know what size your student will need.
3.   Spruce It Up!
Looking to add a pop to the room? Area rugs are a perfect way to distract the eye from ugly tiles and bland white walls. You can also spruce up any boring space by adding a removable adjustable tension rod and window treatments. These can also be a lifesaver (or, more accurately, a sleep saver) if your student is sensitive to light or sounds. Whatever you choose, avoid delicate fabrics, which can tear easily and attract dust and lint.
4.   Find Stylish Storage
Storing everything your student needs in a small space like a dorm room can be a huge challenge—especially because most functional storage is boring or, worse, ugly. A few DIY touches, however, can turn storage into part of a dorm room theme. You can decorate a shoe rack in a glittering gold paint, DIY a jewelry organizer, or turn a storage trunk into a seating area using throw pillows and blankets.
5.   Invest in Accessories
A dorm room can be a great place to start a collection, pay homage to a favorite hobby, or show off one's fandom. Small, inexpensive accessories can be placed on window mantles, along storage, or even on a bookshelf. If that doesn't sound appealing, try adding more traditional accessories like small plants, a vase of flowers, or some picture frames.
6.   Personalized Touches
Transitioning to independence can be challenging for your student. To combat homesickness, encourage your child to frame pictures of family and friends or to make a photo collage of a big event like a trip or graduation. Look for little items that can serve as reminders of home, such as a favorite coffee mug or a favorite decoration.
Transforming an ugly dorm room can be a challenge. With so much emphasis placed on style and not much space to work, it can feel like there are not many options in dorm decor that works. However, with easy, budget-friendly ideas such as sticking with a theme or adding DIY personal touches, your child's dorm room can go from bland to fabulous.
Unedited dorm room image by Peter Alfred Hess (CC BY 2.0)