Converting a nursery to a big kid room may be a huge change for your child, but this transformation is useful and necessary for them. Big kid room lets them be more independent during the play time so they don't have to ask parents assistance that much anymore. Create a room that's safe for your child – keep the hazards out of reach and if you haven't done it already, secure all the furniture to the wall, to avoid accidents.
Be sure to ask your kid opinion on the changes you will make. In the end, they will be the ones living in that room, not you. If your kid's ideas are totally different from yours, try to find a compromise.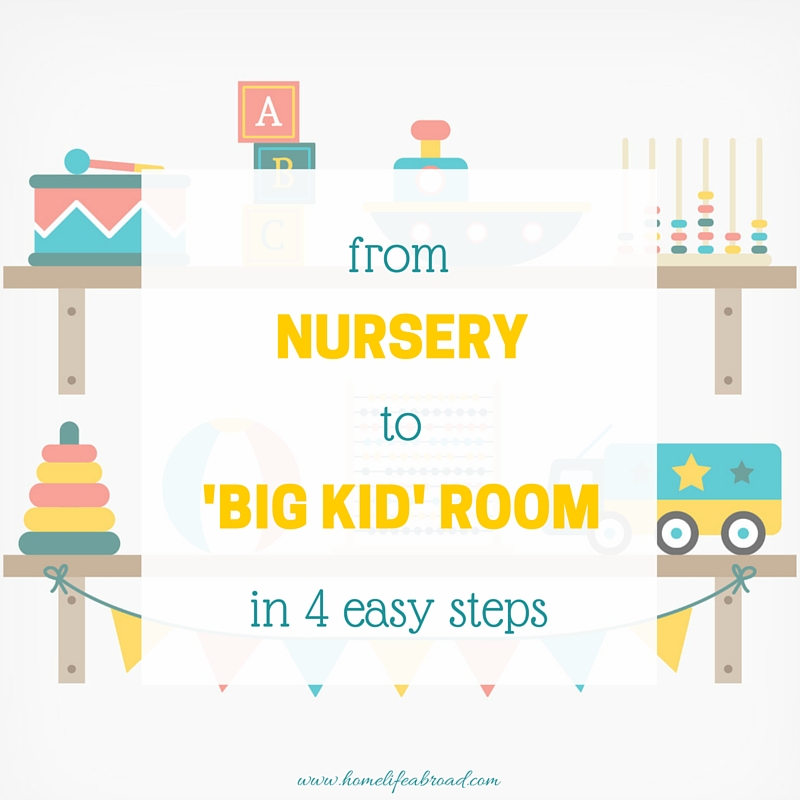 These are the 4 easy steps that help you to convert a nursery into a "big kid" room.
 MAKE IT COLOURFUL
Children love colors! Getting a little bit of color to big kid room is really easy, but choosing the right colors might be more difficult.
The most simple way to transform a room is to paint the entire room or just an accent wall, but when it's not possible, try to play around with bedding, carpets and different accessories.
The budget-friendly option would be to use neutral colors, that work with kids no matter what their age. That way the room will be growing with your child and you don't have to paint the room again when the toddler years have passed and your child's taste has changed.
Decals are a perfect way to decorate the walls when the painting is not viable. Usually, the decals are removable, so you can change them as often as your youngster changes his/her interests.
Another great way to bring some color to the room is to create a gallery of your child's artwork. Choose space on the wall and dedicate it to showcase different paintings, drawings and other crafts your kid has designed.
UPDATE THE FURNITURE
*Bed
The first thing we changed when transforming the nursery was the bed. We debated between the toddler bed and a twin bed, in the end, went with the twin bed. The toddler bed will be used just for a couple of years, so a bigger bed seems more logical and also helps to save money.
If possible, let your kid try out the bed before you buy it. Take your child to a store and let them have fun trying out different beds. The transition to a big boy/girl bed will be easier if they have a say in buying the bed.
* Table
Now that your child is older, a designated area for painting, drawing, play-doh and other crafts is well recommended. It gives them a place where to do their creative artwork and also gives them an idea on how the kindergarten or school classes work.
A small table and a child size chair will make it easy for your kids to feel comfortable and gives them autonomy to get creative whenever they like. Using a child size furniture means that there won't be any need for parents helping them to climb the big chair or that they won't reach to the supplies.
* Dresser/wardrobe
If you were using a changing table, now is the time to give it another purpose. If possible, remove the changer top and use the dresser for keeping clothes and your kids underwear and socks instead of diapers and skin care essentials. Freestanding changing table makes a great toy storage.
Also, start thinking of adding a wardrobe or armoire to the big kid room, as kids need much more clothes than babies. The wardrobe also gives you some extra storage for things you want to keep out of your kids reach.
 GET MORE STORAGE
Kids have a lot of things! Start with toys, add craft supplies, clothes and accessories and you'll see that the storage space you had dedicated to your baby is not sufficient anymore.
We are using cube storage unit to display the books, puzzles, craft supplies, and bigger toys. We placed the unit horizontally, so my daughter reaches all the things she needs without our help. As every item has its own cube, it's really easy to clean up and keep the mess at bay. Use accessories like baskets, plastic containers and hooks to sort toys and keep the room looking tidy.
As I mentioned above, a bed with drawers or under bed storage is another great way to maximize space. Drawers under the bed are perfect for storing toys, extra bedding or even seasonal clothes. Shelves can have several purposes in a big kid room, as they are perfect for displaying books and artwork, but also to keep some items out of reach.
CREATE A PLAY AREA
Even if your kid's room is small, try to create a small corner dedicated to reading and playing. Use a colorful throw rug, add some pillows, a comfortable chair or a bean bag, some books and you have a perfect area for your kid to spend some relaxing time. For a bigger room, you can try a small teepee style tent decorated with fairy lights to make a magical place for reading or even for pretend play.
 As you see, it's not hard to change from nursery to big kid room. It just needs some time and great ideas to set up a perfect place for your toddler.
When's the right time to make the transition from nursery to a big kid room?
Unedited "Toys on Shelves" image designed by Freepik.