What do you do when you have a wet, flooded or leaking basement? Your home stands a high risk of extensive damage if water leakage is not dried or cleaned properly.
This may force you to replace the damaged wall insulation in an attempt to prevent mold and issues related to indoor air quality.
You may want to counter check the amount of your deductible and risk coverage since your insurance company may not cover most water damage.
Today, we will be discussing some of the best waterproofing tips that will offer you the ultimate solution to your flooded or wet basement.
Steps to Reduce Water Damage from Leaking Basement
The first thing you have to do when you want to waterproof your basement is to move all furniture and your personal belongings away from the path of water. The problem could be sump failure, sewer back up, or broken water line.
Although you might consider calling your insurance company to handle the associated costs, keep in mind that most insurance policies do not cover damages if it is considered seepage from groundwater.
It is always important to clean up the water or control it as quickly as possible to achieve the best basement waterproofing results.
Try check whether the problem may be arising from an outside wall. If that is the case, then you need to prevent water from entering from the outside area causing the damage.
How to Find a Leak inside Your Home?
The second thing you need to do is to determine the center of reference from inside your house.
This can be a fireplace, hydro panel, or a window. Try to measure the distance from that point to where you see the water inside or step it out using your feet if necessary.
Using the same measurement, move to the outside and measure the distance from the point you started off within the interior.
A crack in the wall between the brick or siding at ground level indicates the most likely source of the leak.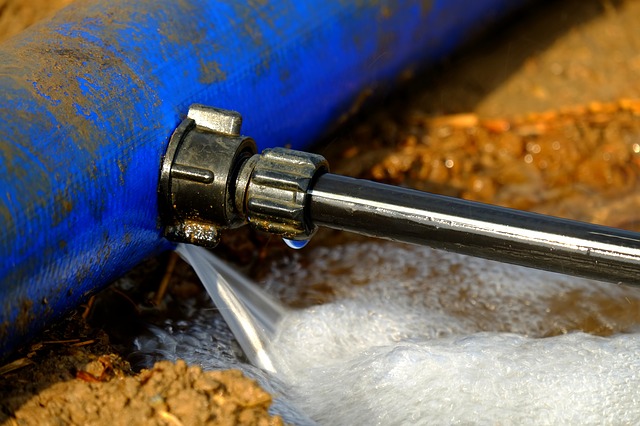 How to reduce the leak outside your home
Grade the earth away from the house
You need to increase the grade if the ground area around the leak is slopping towards the house.
It will be wise to use some earth from another area of the yard instead of gravel because water passes easily through the gravel.
Pack it where the crack is visible on the ground wall area. Do not raise the grade above siding or brick but away from the crack.
Note that this is not a permanent solution but it works to minimize the problem until you receive professional basement waterproofing.
Use Plywood or Tarp
Another technique used in basement waterproofing is to lean plywood, a plastic or a tarp against the wall next to the leak.
Slope it away helps to deflect most of the water leaking from the area. You can use the same procedure if the water is originating from an area below the Hydro Panel.
According to our experience, it is quite common for water to seep through between the foundation wall and the Hydro Conduit.
Look above for patio doors, window sills or side doors in case you don't see a crack or any other possible point of entry.
If nothing is happening at these points, then you need to raise the grade and cover the area with plywood, tarps or any other waterproofing material.
Install window well covers
The water might be originating from an area where there is a window well below the grade. Look for a water line on the window to see if it has been filled with water recently.
More often window wells lack adequate drainage so you can cover the affected area by building the earth up around the well.
You may consider lowering the level of water if the well is presently filled with water. It is also possible to free up the drain by poking it with a bar. Afterward, cover the area to prevent water damage until you receive professional assistance.
A window well cover that fits properly can also protect your window well from snow, rain or debris that might build up and thus prevent any basement leaks.
It is important to note that the damage caused by this kind of problem is not covered by most insurance companies.
How to reduce water damage inside your home
As you work to divert water from the outside, try to clean up or control any water arising inside your home.
A professional restoration company should come in handy in situations where you have extensive water damage and water is everywhere.
If water is only concentrated in a small area, dry it up as soon as possible using shop vac, sponges or towels before you can remove the remaining moisture using fans.
Purchase a dehumidifier
Some form of condensation might still persist in your basement even in the presence of sound waterproofing mechanisms. This usually occurs when you haven't addressed waterproofing at all.
A dehumidifier provides a valuable solution that helps deter mold growth and remove moisture from the air. It is a remedy to humidity issues and minor condensation.
Purchasing a hygrometer from a nearby home improvement store or a hardware will help you see whether the humidity levels in your basement are too high.
If you find the levels to be high, then installing a dehumidifier will restore moisture levels to normal and help mitigate the problem.
It is also important to understand the operating instructions of the manufacturer since these units require some little maintenance.
Use waterproof coatings
There are waterproof coatings in the market that were specifically designed for interior basement walls.
Ask a professional from a hardware store or your local home improvement store for advice on the ideal waterproof coating for your situation.
The waterproof coatings are effective on issues associated with condensation or minor dampness in your interiors.
You need to take other precautionary measures if you are experiencing greater problems to prevent further damage.
An exterior waterproofing treatment will require the help of a professional and can also be costly at the same time.
Apply a concrete sealer
Concrete sealers can be applied to your foundation and walls if you have an unfinished basement. This helps to seal up any microscopic cracks or crevices that allow water to seep through.
You can buy concrete sealers offered by a variety of big box stores to help you waterproof your basement. They also come with a set of instructions that enable you to do it yourself
Install a drainage membrane
Installing a drainage membrane next to the foundation wall could be a permanent solution as it channels water on the exterior of the basement wall towards the drainage pipe of the foundation.
Such installation may be an expensive solution as it requires an extensive excavation if it is a pre-existing home.
What if I have a carpet on the floor?
If your carpet is not glued down, try rolling it back to allow air flowing under the carpet. You can as well use the shop vac to draw out the water.
Most rental companies rent carpet fans so you can make good use of this to clean up the mess inside your house.
Use a pair of pliers to pull the carpet back and grab hold it at the wall area (It would be best if you start in a corner).
The carpet is held by a smooth edge so you need to push in and pull up carefully and you will find an under pad. You can choose to cut this out or squeeze the water out in a laundry tub before hanging it out somewhere to dry.
Another option is to put the carpet fan between the under pad and the carpet and then blow it. You can keep the water at bay with towels if the water is still seeping out below the baseboard.
We advise keeping the towel away from the baseboard. Water often seeps out from below the finished wall without causing damage to the baseboard or the drywall.
The water could rise up and wet the drywall and baseboard if it soaks into a carpet that is touching the baseboard.
In most cases, the drywall is usually raised to at least a half inches above the floor which implies that the damage will be minimized even if the water continues to seep under the wall.
Bottom Line
Basement waterproofing is not always an exact science because there are several things that need to be adjusted and not just one common remedy.
We always advise our clients to call a professional building contractor or a basement-waterproofing contractor if none of these steps works for you, or perhaps you can't locate a definite source that causes your basement water problems.
You will get several opinions as well as estimates before comparing your options and determining the one that works best for you.
Always ask for references that you can check and find out if there is a guarantee or a warranty that comes with the work.