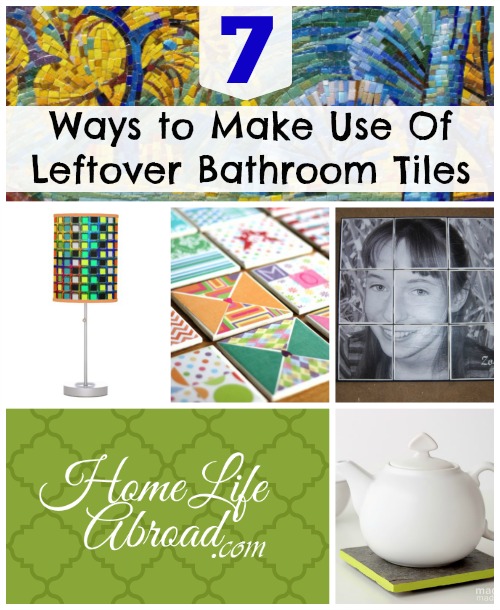 There are loads of cool ideas on how to use your leftover bathroom tiles, or tiles from any remodeling projects you may have undertaken in the past. You can use them in an array of crafts activities, as well as in many other ways to enhance your home's overall charm. There's always some way that you can add beauty and utility to your home with tiles that are left unused. And of course, if you need to, you can always purchase a few extra tiles to go along with what you already have.
Let's take a look at some of the most interesting options:
Countertops and backsplash tiles
If you have a good amount of leftover tiles, consider using them to add a durable, easily cleanable surface to your older counter-tops. Use bullnose tiles to add a backsplash too. When you seal the grout, ceramic makes an excellent water-resistant covering for tables, countertops and just about anything that needs a fresh look.
Personalized coasters
Use rubber stamps, or different colors of Sharpie markers to add personalized designs to selected tiles. Make them into waterproof coasters to serve delicious cold beverages on. You can even customize one for every member of your family, adding warmth and hominess to your environment. Add a cork based backing to them in order to add cushion and keep your tabletops from getting scratched.
Unique mosaics
You can use your leftover ceramic tiles to create unique mosaics. Again, you can do this on tables or countertops – or just create yours inside of a picture frame. Explore your options in colored grout to accent and contrast your mosaics.
Tiled photography
You can also use leftover tiles to place photos on, giving them a whole new amplified effect. Choose the sizes of the pics and the tiles with care. If you like, make the tile an inch or so larger than the photo in all directions. This will create a border around the picture, further enhancing the effect. It's also easy to affix an eyehook to the tile, on its back side, to use for hanging the picture up.
Lamp decor
Carefully break up some of your leftover tiles, and then glue them in randomly chosen spots, to a flat-surfaced, transparent lamp shade. Then, when the lamp is powered on, the light will shine through the tiles, giving off dazzling lighting schemes.
Trivets for hot pots
Use thick, larger tiles in your kitchen to receive hot pots of food, dirty ladles or whatever else you like. These tiles also make excellent cutting boards that are easy to clean and difficult to damage.
Splashes of décor
Use burnt orange, red and other hot-colored tiles to add flashes of heat to various spots around your home. Just a small diamond-shaped blood red tile in the center of a kitchen cabinet door can set the whole room ablaze with character!
So you see, there are lots of really simple, but effective decorating and utilitarian ideas that can be brought to life with leftover bathroom and kitchen tiles. They can be used just about anywhere you want to add a touch of unique, fun and lasting beauty.
We would love to hear your thoughts! Do you have any more ideas on how to re-purpose tiles? Tell us below!