Designing your room around your mattress may seem unusual. After all, most people design their bedroom around the size of the room, the bed's frame, the furniture, or a particular color palette.
Your mattress, however, is an important design element that can be used to customize and create your bedroom surroundings, and from there, will help you decide the other elements of your bedroom and how they'll pull together the look of the entire room.
If you are not sure how to choose a mattress for your bedroom design, you are welcome to check out our tips below!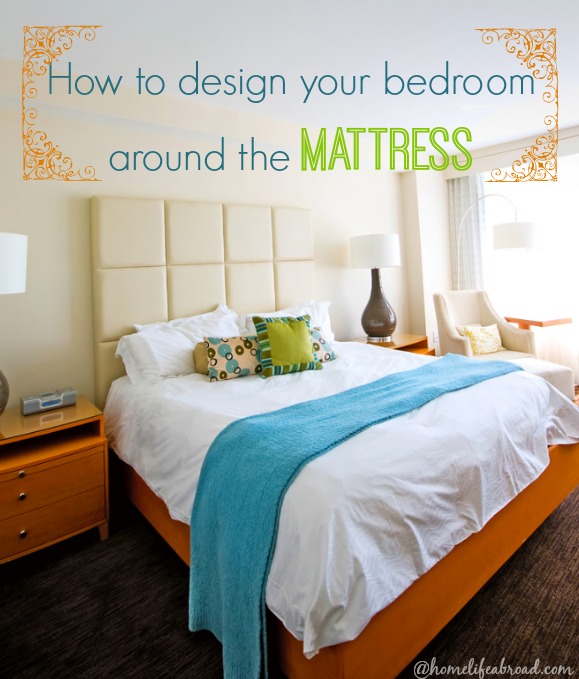 New Mattress—New Look!
First, you'll have to think about the kind of bedding purchases you'll need to make before you begin designing a room.
Are you buying a new bed and mattress? If you're getting a fresh start, you can design your room around both the foundation and frame. This gives you a greater amount of control over your bedroom space.
Are you buying a mattress that will match your existing bed frame? While this narrows your options a bit, there still are hundreds of mattresses that will match your frame.
Mattress Size and Depth Determines Your Bed's Footprint
Using your bed's foundation as the focal point of the room will help you determine:
Mattress Size. Twin, full (sometimes called a double), queen, king, and California king mattresses range from 38 inches by 75 inches to 72 inches by 84 inches. That's quite a range, and the difference between a twin and a king is substantial. Consider how many people will be sleeping in the bed (two people can fit on a full bed, and can more comfortably fit on a queen and king) and how tall they are. We all know that size matters, but don't forget to learn more about different mattress types too.
 Mattress Depth. Many people don't consider mattress depth when they buy a bed or mattress. The standard depth is 7 inches, deep mattresses are between 10 and 15 inches, and extra deep and pillowtop mattresses are as high as 24 inches. While many people love the look and feel of these mattresses, a deeper mattress, when combined with box springs, can be very far from the floor. If you're shorter, you may have to climb onto the bed with a deep mattress and then possibly jump down a few inches when you get out of bed. If your pets like to sleep with you, they may have difficulty jumping up on a bed with a deeper mattress and box springs.
Room Layout and Style Options
Now, it's time to take a look at the bedroom (or bedroom space if you have a loft, studio, or open concept bedroom) to see how much space you have to design around. Then, you can pick a style that you love for the furniture and walls.
Layout. First, measure the size of the room. Many bedrooms are rectangular instead of square, so note this when you measure. (You may want to use a piece of graph paper and assign a foot to each square so that you can map out the dimensions of the room.)
Take note of where the windows and the doors are, and how much usable space they take away from the room's interior. You may have beautiful, floor-to-ceiling windows that run the length of the bedroom, but you shouldn't place the head of the bed in front of them since they will take away from the airy and bright impact of large windows. Instead, you'd likely place the bed parallel to those windows so that you can enjoy the view.
 Bed and Furniture Style. If you love the traditional or classic design, a bed with large curved headboard and a standard depth mattress, with Wedgewood Blue walls and wood accents would pull the elements of your room together. A chalet-style sleigh bed begs for a deeper mattress that will fit in between the long, curved footboard and headboard. A more contemporary style will likely have smooth planes broken apart by angles.
Now you can complete your bed's look with sheets, pillows, blankets, bed skirts, and comforters. If you have room for additional furniture, a bedroom bench at the foot of the bed adds a touch of elegance. Using your mattress to guide your bedroom design planning is practical—but also produces beautiful results!
Did you design your bedroom around your mattress or around your bed's frame?