***This post contains affiliate links and we will be compensated if you make a purchase after clicking on our links. This doesn't affect the price but we do appreciate your support in this way!
Family reunions are more popular than you might think! According to a survey that CustomInk sent to customers who purchased custom apparel for their family reunions, 43% of respondents said their family reunions have 56+ attendees varying in ages from 1 month old to 75+ years of age. And 41% said that they have reunions once a year, with 45% having one once every 2-4 years.
Activities engaged in at family reunions ranges, but most popular are: taking family portraits (70%), playing family games (56%) and sporting games (43%).
Many families up to their activity game by purchasing custom gear for the reunion, with 96% creating custom t-shirts and 15% creating custom drinkware (water bottles, koozies, etc.).
Time away with family is valuable. More than half (52%) of survey respondents said that their families travel between 50-250 miles, with 67% traveling over 250 miles. Additionally, a majority (57%) of reunions last for an entire weekend or for an entire week (23%).
If you are planning a family reunion or special gathering between July 22, 2015, and October 31, 2015, you should definitely enter CustomInk's Family Reunion contest. You'll get a chance to win $1,500 to celebrate family togetherness, custom products from CustomInk, and access to a professional photographer that will capture moments at your family event (grand prize valued at $4,000).
Here are some details:
Upload a photo of yourself and at least three family members (submission period begins 6/4/2015 at 9:00 am EST and ends

6/25/2015 at 11:59 pm EST

).
Then, in 150 words or less, tell CustomInk how you would use $1,500 from CustomInk to help unite your family this year.
Each submission will be judged based on the following criteria: Photo and photo description, family togetherness, group spirit, creativity/originality, and fan votes (fans can vote once every 24 hours).
For more details, check out CustomInk's Family Reunion Contest on their Facebook page.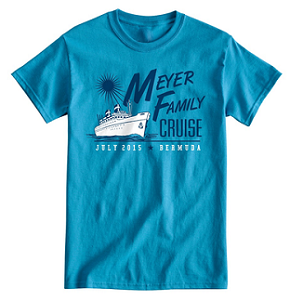 Let CustomInk help you make it a family reunion to remember with their custom designs. All designs are fully customizable in the CustomInk design lab.