All the recipes with more than 10 ingredients always seem too elaborate to make for me. But if we leave the long ingredient list aside, this Crispy Sweet and Sour Chicken recipe is quite easy to make and it is one of our family's favorite Chinese dishes.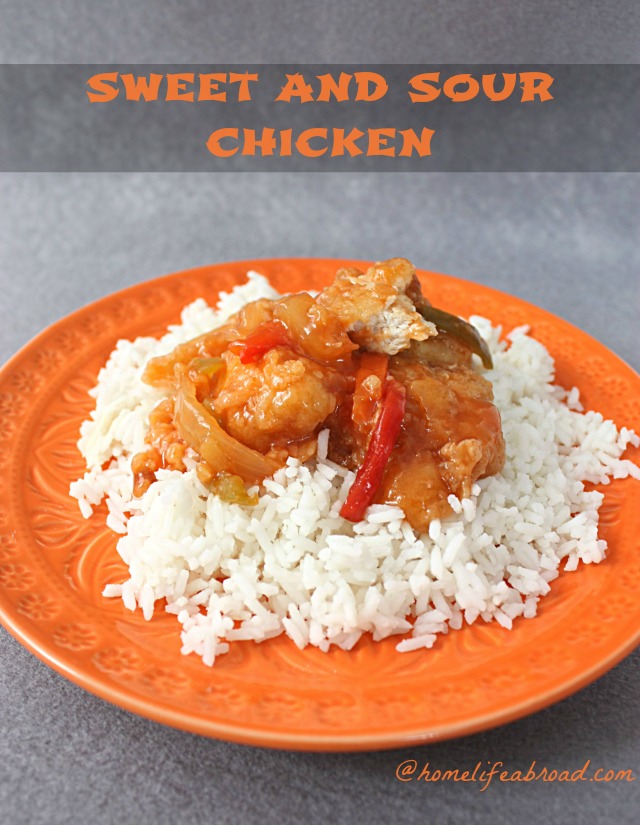 Ingredients
For the crispy chicken:
2 chicken breasts
100 g all-purpose flour
2 eggs
vegetable oil
A dash of black pepper, garlic powder and salt for seasoning.
For the sweet and sour sauce:
1 red bell pepper
1 green bell pepper
200 g pineapple chunks in natural juice
1 medium onion
1 teaspoon grated fresh ginger
150 ml juice from the canned pineapple
4 teaspoons water
2 tbsp ketchup
3 tbsp cornstarch
3 tbsp brown sugar
1-2 tbsp rice vinegar
1 tbsp soy sauce
1 tbsp oil
Instructions
For the crispy chicken, cut chicken breasts into bite-sized pieces and remove any fat, connective tissue, etc. Mix eggs and seasoning in a bowl and beat until combined, then add chicken into the egg mixture and let it stand for half an hour.
Place all-purpose flour in a big plate and thoroughly coat the chicken pieces in flour. Heat a generous amount of vegetable oil and deep fry chicken pieces until golden brown. When done, let them drain on a paper towel covered plate.
For the sweet and sour sauce wash bell peppers and deseed them. Then cut into strips. Cut onion into wedges and set aside. Drain the pineapple and keep the juice. In a small bowl, mix together the cornstarch and water. In a bigger bowl, mix soy sauce, vinegar, sugar, ketchup, and pineapple juice, stir until combined.
Heat a tablespoon of oil and stir-fry peppers and onions for about 3 minutes. Then add pineapple and ginger and fry for 1 minute. Add the sauce mixture to the vegetables and bring to simmer. Cook for 5 minutes until the sauce begins to reduce, then add the cornstarch mixture and let the sauce thicken. Add crispy chicken chunks to the sauce and mix. Serve crispy sweet and sour chicken with rice.
Do you like Chinese food? What's your favorite dish?