I know that a lot of you are really tired of all that snow and cold weather, waiting anxiously for the summer to arrive.
That's why we will share with you a strawberry tartlets recipe that brings the summer a little bit closer. What better thing to characterize the summer than fresh, ripe and sweet smelling strawberries? I myself eat kilos and kilos of strawberries during the summer. Actually, here the strawberry season starts in February and ends in June.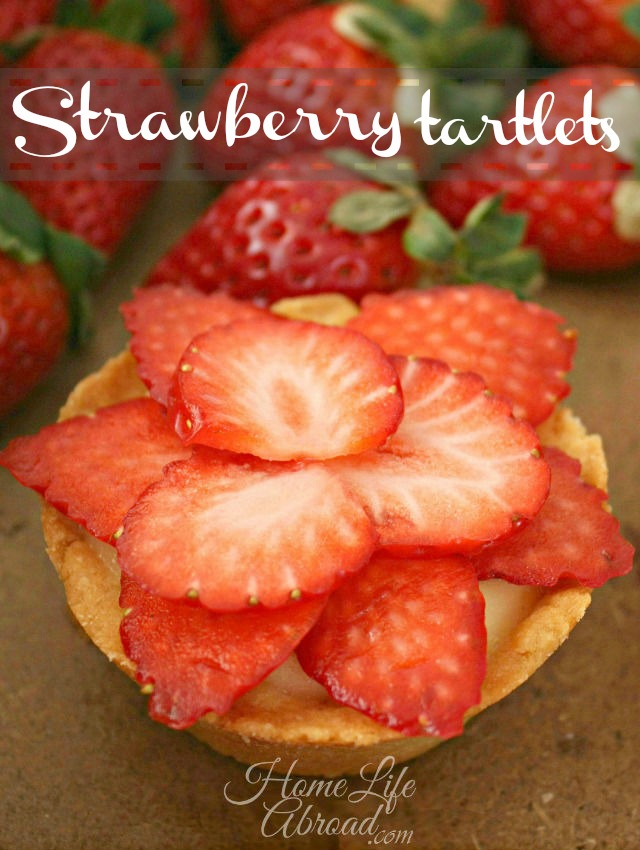 These strawberry tartlets are easy to make, but it takes some time to elaborate them.
I made the crusts and pastry cream from scratch. If you're in a hurry or really busy but still need a delicious dessert, there is a shortcut. You can use store bought components and this mouthwatering treat comes together in no time.
You can choose between making a big tart or small tartlets. I made both of them 😛
As the pastry cream takes couple of hours to cool completely, it's better to start from the cream and then make the crust. The crust recipe I use, comes from this site.
Strawberry Tartlets
Ingredients
Pastry Cream:
½ l milk
4 eggs
150 g sugar
60 g cornstarch (depends on how thick cream you want)
1½ teaspoons vanilla extract
Crusts:
150 g butter (room temperature)
100 g sugar
1 egg
½ tsp salt
½ tsp baking powder
240 g plain flour
Instructions
Pastry Cream:
Heat the milk in a heavy-bottomed saucepan until it's warm.
Meanwhile, beat eggs and sugar until pale yellow and foamy. Add cornstarch and mix well.
Pour the egg mixture into a warm milk while whisking constantly.
Cook the mixture over medium heat until thickened (8-12 min; when the bubbles start to pop through the cream, it's done).
Remove from heat and whisk in vanilla extract.
Strain through fine-mesh strainer to ensure smooth and lump free cream.
Cover pastry cream with a plastic wrap touching the surface, to prevent a skin from forming.
Let it chill for 2-4 hours.
Crusts:
Mix egg, sugar and butter in a small bowl.
On a big cutting board (or on the table), mix flour, salt and baking powder.
Pour the egg mixture on top of the flour. Using a wide bladed knife start chopping flour and egg mixture together til you get a dough that resembles scrambled eggs.
With 5-10 movements, form the dough into a loaf. Cover the loaf with plastic wrap and then refrigerate for 30 minutes.
Preheat the oven to 180°C.
Grease fluted tart pans. I made a tart in a pan, but used muffin pan to make tartlets, as I don't have individual fluted tart pans at home.
Roll out pastry until 0,5cm thick. Use 2 sheets of parchment paper to make rolling easier.
Line pans with pastry. Then line crusts with parchment paper and fill with ceramic pie weights.
Bake until the edges are golden (10-15 min). Then remove the baking paper and weights and bake for another 8-10 minutes until crust bases are golden
Let it cool.
Assembling:
Spoon the pastry cream to the cooled shells and decorate with strawberry slices.
Serve