I love chocolate – milk chocolate is my favorite, but dark one isn't bad either. I really like to use chocolate while baking, but for a long time I did not succeed in baking brownies.
Brownies are all about chocolate! Deep chocolate flavour, that cracked crust and rich moist texture – I just dreamed about the perfect brownie, but anything I baked, lacked those qualities. I had tried around seven different brownie recipes and they turned out too cakey, too dry or too runny. So for a while I just stopped trying to bake any brownies.
Then, some time ago, my husband (who loves chocolate more than I do) started to ask me to try again. I was searching for a perfect brownie recipe, and found one that was really easy to make and needed ingredients you normally already have at home. This recipe takes like 5 min to make, you mix all the ingredients up in one bowl and the result is really delicious – rich chocolate taste, a little bit chewy, a perfect comfort food. I think it's the best brownie I have ever had. I'm thinking of trying this recipe with nuts or caramel. But sure have to cut back on the sugar amount when using caramel.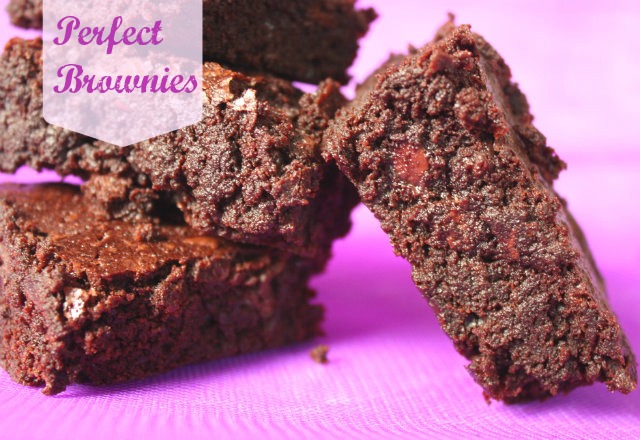 Here comes The Perfect Brownie Recipe!
Ingredients:
300 g of sugar
70 g of flour
80 g of unsweetened dutch processed cocoa powder
3 eggs
170 g of butter (I normally use around 150 g, 170 g seems too much for me)
130 g of chocolate chips ( I used semi-sweet)
½ teaspoon salt (if using unsalted butter)
Instructions:
preheat the oven to 165°C (325°F)
line a baking dish (9×13) with parchment paper
melt the butter and let it cool a little
combine sugar, flour, salt, cocoa, eggs and butter
mix slightly until all the ingredients are incorporated
add the chocolate chips
pour the brownie batter into the baking dish and spread it out
bake for 20-30 minutes
use a toothpick to test for doneness
allow to cool in the pan
remove from the pan and cut into squares
You can serve these brownies with ice cream or some whipped cream!
You are all done! Now just enjoy!
The Perfect Brownie Recipe
Author:
How To Cook Like Your Grandmother
Ingredients
300 g of sugar
70 g of flour
80 g of unsweetened dutch processed cocoa powder
3 eggs
170 g of butter
130 g of chocolate chips
½ teaspoon salt (if using unsalted butter)
Instructions
preheat the oven to 165°C (325°F)
line a baking dish (9x13) with parchment paper
melt the butter and let it cool a little
combine sugar, flour, salt, cocoa, eggs and butter
mix slightly until all the ingredients are incorporated
add the chocolate chips
pour the brownie batter into the baking dish and spread it out
bake for 20-30 minutes
use a toothpick to test for doneness
allow to cool in the pan
remove from the pan and cut into squares