I have to admit that when I was living in Estonia, the pumpkin was almost never on my menu. We mostly used to marinate it for the winter. Pickled/marinated pumpkin is often found on our tables on birthday parties and even on our Christmas dinner menu.
When I moved to Spain, I learned to eat pumpkin in soups. My mother-in-law cooks pumpkin and vegetable purée couple of times a month and always brings a serving or a two for us.
Today I'll share with you a Pumpkin Bacon soup and it's paleo compliant! This recipe comes from my co-worker's mom. It's really easy and needs just a few ingredients. I usually make a big batch and then freeze it. When unfreezing, the soup may look strange, but heat it through, give it a good stir and it will be perfect!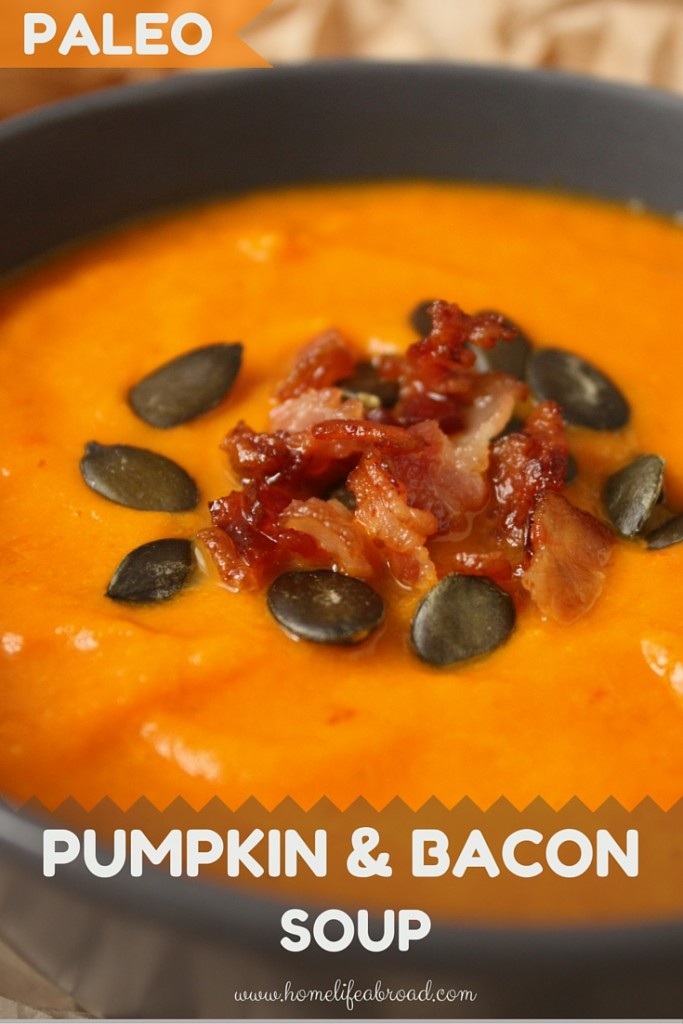 Ingredients
1,5kg pumpkin (peeled, deseeded and cut into small pieces)

1 medium onion (chopped)

1 medium red bell pepper (chopped)

150g bacon (chopped)

2 garlic cloves (finely chopped)

black pepper

nutmeg

salt

pumpkin seeds (optional)
Directions
In a large pot add the chopped pumpkin pieces and cover with water. Bring to boil, reduce heat, and let simmer 15-20 minutes or until the pumpkin is tender. Drain and let cool slightly.

Whilst the pumpkin is cooking, heat a saucepan over medium heat and fry up the bacon. When it's crispy, remove the bacon and drain. Set aside. Reserve a little bit of bacon for garnish. Save the bacon fat.

Use 1-2 tablespoons of bacon fat and cook the bell pepper and onion over medium heat until the onions are translucent. Add garlic and cook until it's fragrant.

Put all the ingredients in a food processor and purée the soup in batches until very smooth. You can also use a stick blender, but I find that food processor gives a smoother result.

Return the soup to the pot and season with salt, pepper, and nutmeg.

Serve garnished with the reserved bacon and the pumpkin seeds.
What's your favorite pumpkin recipe?