**This post contains affiliate links and I will be compensated if you make a purchase after clicking on my links
It's summer, and we all know what summer means: wedding season! This time I'm up to the task because my sister is getting married and we have a lot of planning left to do.
Next on the to-do list: find the perfect wedding invitations. It has to represent the look & feel of the wedding itself, and match the colors my sister picked out. And we need to keep under budget, too… wedding expenses can get out of hand without any control.
Luckily for us, we're right on time for MagnetStreet's 4th of July wedding sale! 😀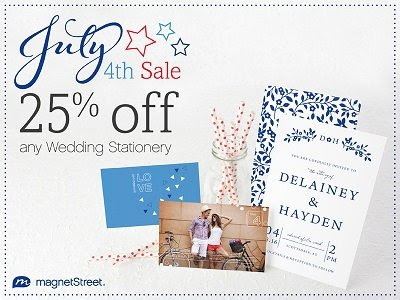 If you don't know MagnetStreet, you really should take a look at their products and site. They offer top quality stationary of all kinds and for all types of events. It's our go-to place for invitations, announcements, and programs since they have great quality, beautifully designed options, and at a good price (especially now with the discount).
Here is a sampling of some of their beautiful wedding invitations:
So if you're also looking for wedding invitations, save the dates, programs or any other kind of wedding stationery products, don't miss out. The sale is only until 7/7/2015 so make sure to take a look and make your order before it expires!
To get your discount, use the code WAFJULY at checkout. Just like that, the price is 25% off!