*This post contains affiliate links and I will be compensated if you make a purchase after clicking on my links. Home Life Abroad has received no compensation for writing this post. I purchased all the products minus the Comfy Critters I received for a review. All opinions, however, are 100% my own!
Some of my favorite products I have enjoyed during the month of October!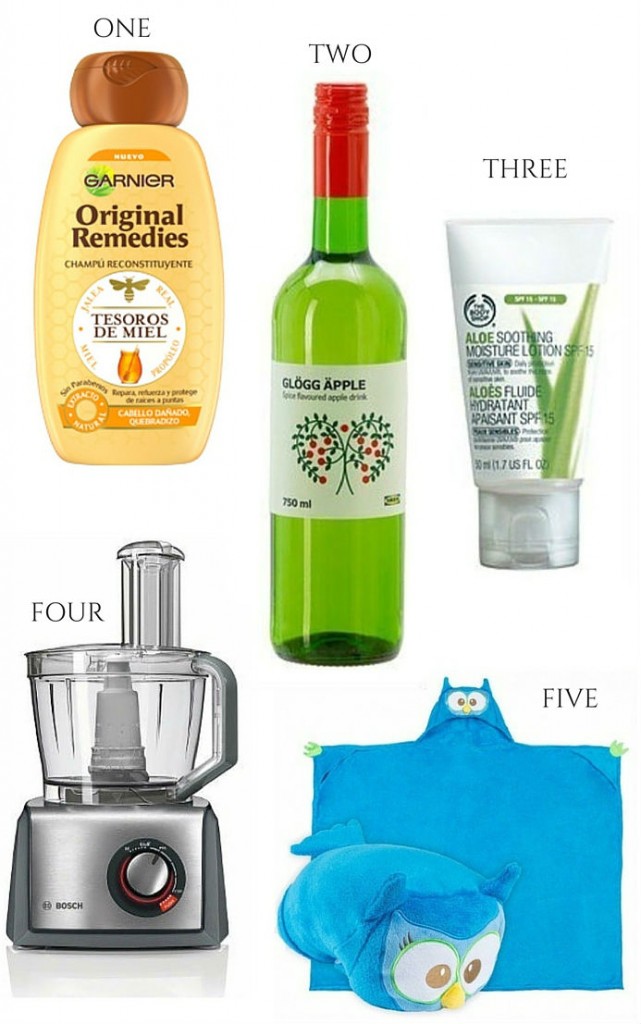 1. Garnier Original Remedies Tesoros de Miel Shampoo
Garnier has a new line of hair care products under the title of Original Remedies/Ultimate Blends. There are 8 different blends or remedies for hair with different needs. I have tried out their strength restorer shampoo with honey, propolis and royal jelly for brittle, damaged hair. The strengthening power of these 3 amazing treasures from the beehive helps to nourish and restore your hair. I really love the how my hair smell after using this new shampoo and I also feel that my hair stays clean longer than with other shampoos. As soon as possible, I'll be trying out their conditioner, serum and 1-minute treatment from the same line too!
2. IKEA Glögg Äpple
Glögg is a term used for mulled wine in the Nordic countries. IKEA sells two different glöggs and they are both delicious. They come with or without alcohol, so everybody can find their favorite. You can serve them both hot or cold, but I prefer them hot on a rainy or a chilly day. Glögg smells really wonderful and makes me think of Christmas and snowy days in Estonia. Actually, glögg is a traditional drink during the winter time, especially during Christmas and Halloween. So when you are visiting IKEA, stop by their food store and buy a bottle or two of glögg and try their delicious winter drink.
3. The Body Shop Aloe Soothing Moisture Lotion SPF 15
You already know that I'm a big fan of The Body Shop products, so I can't leave out my latest discovery – the Aloe Soothing Moisture Lotion SPF15. My skin has been really acting up lately, from super dry to extremely oily and I was in a desperate need of a new daily face cream. When visiting TBS, the lady recommended the moisture lotion and after using the samples I really liked it. So I went back and bought the product. The Community Fair Trade organic aloe vera helps to soothe the damaged skin and the SPF 15 helps to keep the skin safe from the damaging rays of the sun. The product is a little bit pricey, but a little goes a long way, so the 50ml bottle lasts long.
4. Bosch MCM6 MultiTalent Food Processor
When I started with paleo, I needed a food processor and after comparing different models, we settled for the Bosch MCM6 MultiTalent. This food processor is an indispensable helper in the kitchen. It can handle more than 50 tasks – chopping, rasping, slicing, kneading the dough, whipping cream, blending, extracting juice and beyond. We found it on a sale and are really happy with the purchase. My husband was skeptical at first, as he did not want to add yet another appliance for the kitchen, but now he's the one who uses it the most. Certainly worth buying!
5. Comfy Critters Owl Huggable Hooded Blanket
I know that the cute Owl Huggable Hooded Blanket was actually sent for my daughter, but with the weather we are having lately, I'm using it more for me than for her. It's a perfect companion for rainy and cold days. Pair it up with a hot drink and a good book or a movie for a superb me-time. It's so soft, comfy and warm! We also have a Cat Huggable Hooded Blanket and sometimes we use the blankets as a costume and have a great time pretending that we are a cat and an owl. My daughter also adores her cat and owl blankets as a pillow. Yes, these huggable hooded blankets are versatile – they can be blankets, pillows, stuffed animals or even costumes.
What are your faves lately?