Most of the little girls have dreamed about their fairy tale wedding – prince charming, a beautiful dress, fabulous cake, and a lot of fun. Once the actual wedding planning starts, you'll discover that it's not as easy as it looked at the beginning. There are hundreds of little details to tackle you had no idea about, your friends and family want to give their five cents how your wedding should be organized and you have no time for all the appointments in your growing list.
Planning a wedding might turn out to be a real nightmare but it shouldn't be if you know how to find some help. Yes, we are talking about the fairy godmother of all weddings – a wedding planner!
Ronnie's sister got married a month ago and after all the drama and tears with wedding planning and at the wedding itself we thought you could be interested in why hiring a wedding planner is a good choice.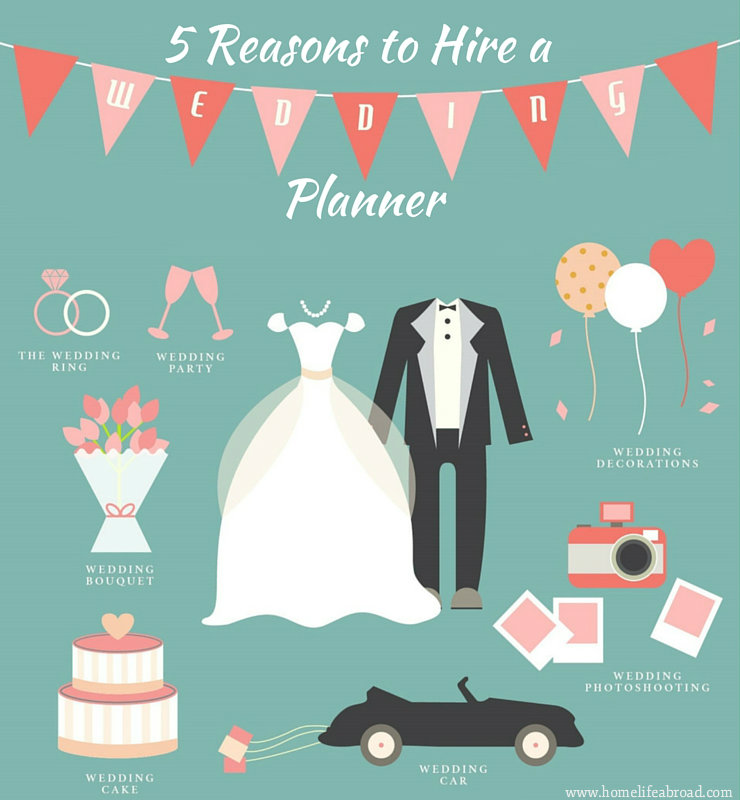 Here are the 5 reasons we think you should hire a wedding planner for your big day:
Wedding planner saves a lot of time
Planning a wedding takes a lot of time – we are talking about up to 15-20 hours per week! It's like a part-time job! Yes, you could ask help from your family and friends, but they also have their own jobs and personal matters to attend and they might get sidetracked.
Also, most of the companies that deal with weddings have regular working hours, can you take time off during your work day to have a meeting with florists, bands, stylists and photographers?
If you hire a wedding planner, he or she can take a lot of responsibility off your shoulders. From helping to select the perfect wedding venue to coordinating the logistics of the whole day, every aspect that goes into a well thought out and perfectly executed wedding experience is the job of the wedding planner.
Wedding planner helps you with the budget
Money is one of the most important and also the hardest aspects of the wedding planning. Who pays for the wedding? How much does a wedding photographer costs? How much should you spend on flowers? These are the questions you have to ask yourself, but if you have never planned a wedding before, you have no idea how much all the things might cost. You can do an online research, spend hours on creating a budget and then, in the end, find out that you missed something and have to redo it again!
A wedding planner already knows the rough cost of the services and vendors, knows how to keep track of the bills paid and the ones that still need to be paid. A wedding planner is like your personal accountant – she or he won't let you spend more than needed and helps you to figure out a suitable budget for your personalized wedding.
Wedding planner has already established connections and partnerships
At first, it might seem like a negative point but actually established connections save you a lot of time and work. Instead of visiting different venues, reading reviews and comparing them, a wedding planner can help you to find and recommend a perfect venue and vendors in much less time than you would do it yourself. Having an extensive network of different companies does not only mean that they will be familiar with the properties and services, but also that they might have knowledge of how to save or get the most bang for your buck.
Wedding planners also come in handy in cases where you need a special service or something different from the usual. It may take you weeks to find that certain supplier, but a great wedding planner has that vendor just one phone call away.
Wedding planner has much more experience than you, your friends, and family together
Practice equals perfection. It does not matter that your mom has been to tens of weddings and that your best friend has been a bridesmaid in 27, it does not make them experts in planning a wedding. There are tons of little details, contracts, deadlines, and checklists that are a vital part of any wedding and it's better not to forget them.
As a wedding planner has organized her or his share of weddings already, they know all the things that need to be done by heart. Every bride wants her special day to be perfect and we can assure you that no matter how hard you try or how much effort you put into it, no matter what, something will go wrong on your wedding day. Murphy's Law tends to come into play full force when it comes to weddings.
Murphy's Law tends to come into play full force when it comes to weddings. Wedding planners are professionally trained experts who are knowledgeable and have extensive experience in dealing with last minute 'disasters'. With a wedding planner on your side, no matter what comes up you can rest assured that you will hardly notice the hiccup.
Wedding planner gives you the freedom to enjoy your big day
In most cases, people get married just once and the wedding day can never be repeated. If you have decided not to hire a wedding planner you will be in charge and responsible for everything. Yes, your friends and family will help you, but after a couple of glasses of champagne, the responsibilities are easier to forget. You should not be worrying about getting all the necessary people to show up for the photos, thinking if the DJ has the right playlist and resolving family disputes that may occur on your wedding day.
It's your day, and you should be able to enjoy spending time with your husband and family. Dance until your feet hurt and remember every perfect detail of your wedding. Hire a wedding planner and savor every moment of your new life has a husband and wife.
What do you think about hiring a wedding planner? Yes or No?
Unedited Wedding Infographic image designed by Freepik.