**I received the products mentioned below to facilitate my review. All opinions, however, are 100% my own!

Like any other kid, my daughter loves to pretend play and to dress up as a fairy, a princess and sometimes as a mom. When pretending to be a mom, she also asks for makeup, as she needs to "make herself pretty".
I use really few cosmetics and apply makeup mostly for special occasions, but Sofia knows that moms use creams and powders to make themselves beautiful, so she also wants to try the products moms use.
Sometimes I let her use my creams and a couple of days ago we had a really great time applying green facial masks and playing that we are Shrek & Fiona. Well, I just applied the mask for her nose, as she has really delicate and atopic skin and I know that products meant for adults are not always suitable for children. Even the play make up we have bought has such a long list of unknown (to me) ingredients that it seems not safe for children's skin.
When you are looking safe and skin friendly play cosmetics for kids, be sure to check out Miss Kate!

Miss Kate is an Australian company that dedicates to creating natural skin care products and play cosmetics for kids. Their product range offers natural lip palms, play makeup sticks, mineral powders, and pillow sprays.
What we like about Miss Kate is that all their products are free of:
Synthetic fragrance

Parabens

Sulphates

Harsh detergents

Mineral oils

EDTA

Colours

Animal testing
All Miss Kate's products are 100% natural as they use only organic and/or naturally occurring ingredients and their products have also been certified "toxic-free".
We were sent Autumn Princess Gift Bag and Natural Play Makeup Sticks for review. When we opened the package, Sofia squealed with joy. She couldn't believe that all this pretty makeup was for her and wanted to try it out instantly.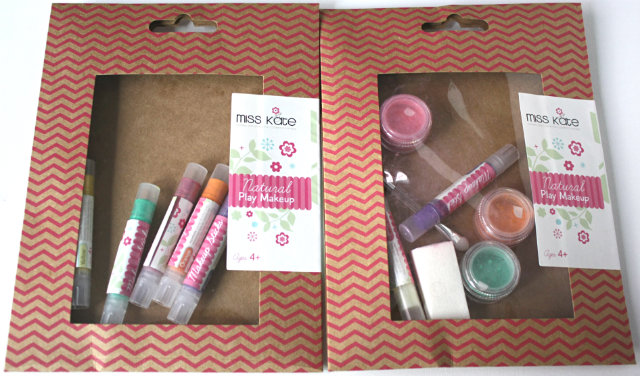 When Sofia started to try out her cosmetics, I spent a little time reading the information on the gift bag and found out that Coconut oil, Cocoa butter, beeswax, vitamin E, Grapefruit Seed extract, Chamomile extract, orange peel oil are just some of the amazing ingredients Miss Kate is using in their products.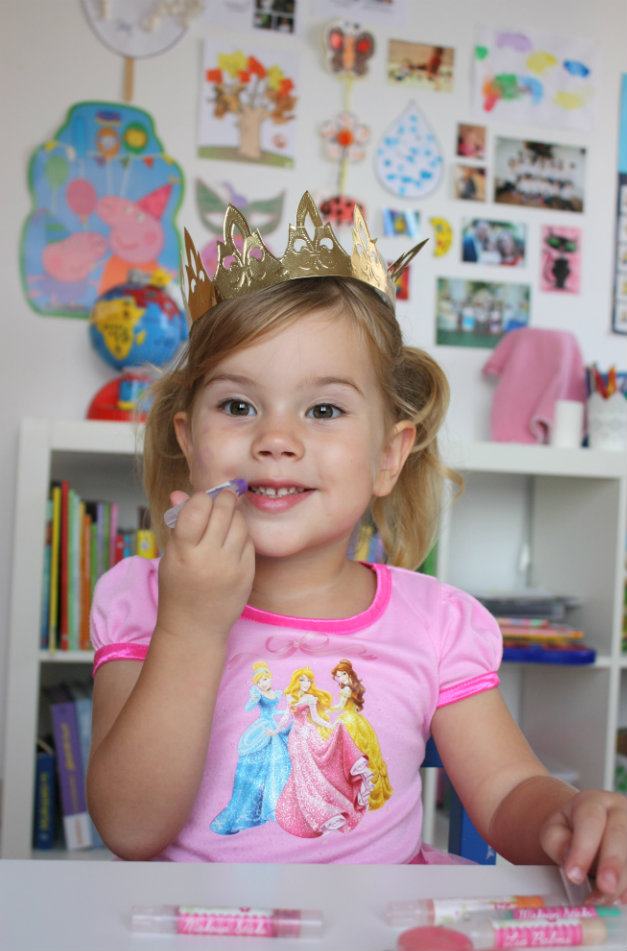 Autumn Princess Gift Bag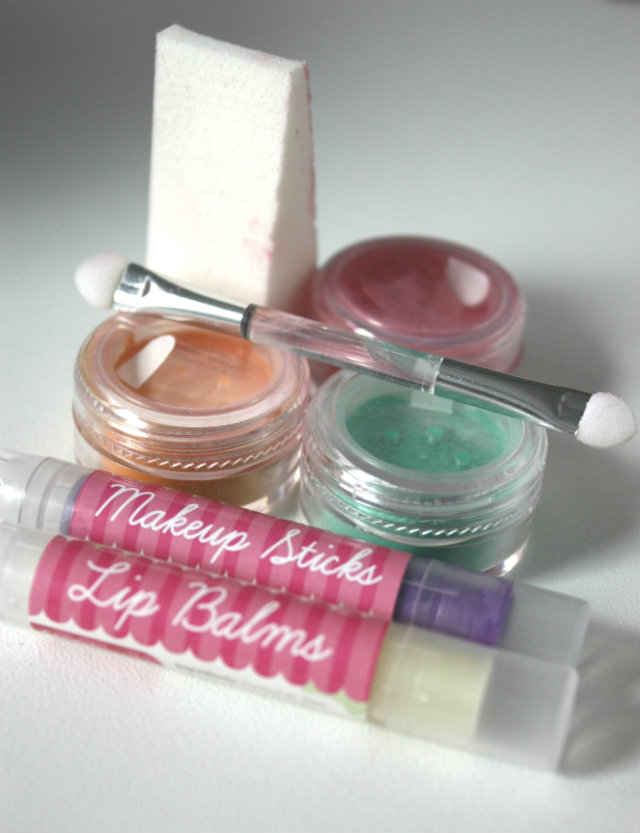 The products come in a really cute gift bag and include 3 eye shadows, flavored lip balm (we got strawberry), makeup stick, eyeshadow applicator and a makeup sponge.
The eyeshadows come in small 1g containers. I know it seems so little, but we have had several accidents already and some of the powder has been spilled all over the floor and guess what, the container is still almost full. So I can say that little goes a long way and you really have to use a small amount of eyeshadow to get a beautiful result.
The eyeshadows can be used dry or wet depending on the result you are looking for. When applying to eyelids, face or cheeks use it dry. For face painting, dip the applicator or the sponge in water, squeeze out the excess and mix the powder, then create the desired look on your kid's face.
The strawberry lip balm smells really delicious and thanks to its clear finish it's almost unnoticeable and suitable even for school or kindergarten. It leaves your lips moisturized, soft and with a little bit of shine. How do I know it leaves your lips soft? I used it on my lips too and really like the result.
The set also includes a makeup stick. We got a purple one. These makeup sticks can be used on lips, eyelids, and cheeks. The color is subtle and leaves a shimmery result.
Natural Play Makeup Sticks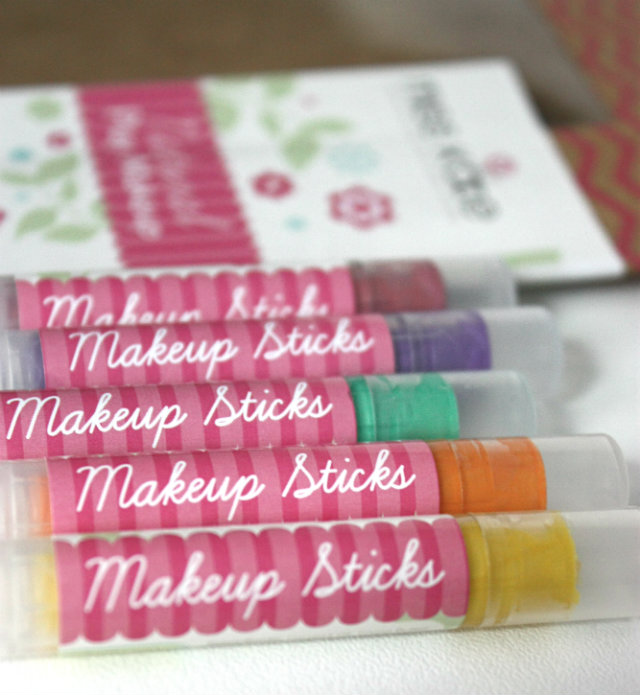 The gift satchel includes 5 play makeup sticks – yellow, orange, green, pink and purple. These sticks are vegan and made with a blend of different natural oils and butter including Coconut Oil, Cocoa Butter, Meadowfoam Seed Oil and Candelilla Wax among others. To get the beautiful color, natural vegetable dyes and crushed minerals are used.
Thanks to its buttery consistency it's easy to use and leaves the skin super soft. As I mentioned before, these sticks can be used on lips, eyelids, and cheeks.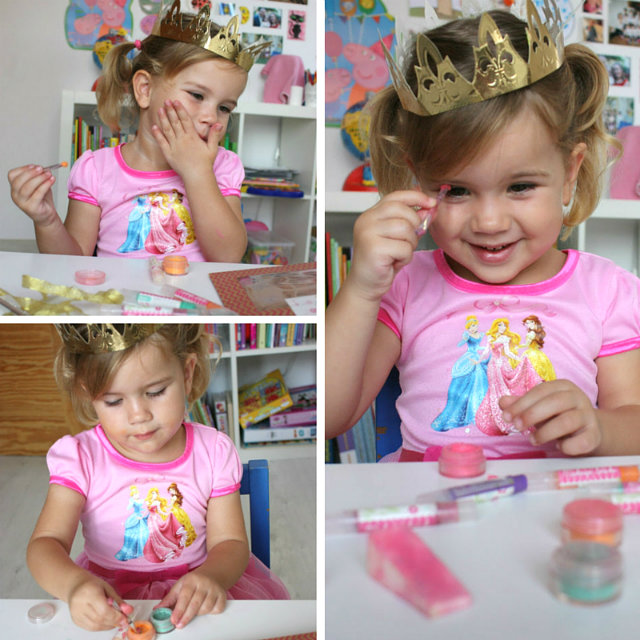 The things we really love about Miss Kate:
100% natural

products come beautifully packed

easy to use

give hours of play fun

the lip balms smell really delicious

a little goes a long way

really easy to clean up

great customer service
Give your child a gift of imagination this year! Miss Kate offers a great variety of products for your kids to let their imagination run wild when they are pretend playing. Thanks to their safe and natural play cosmetics, children can convert themselves to princesses, fairies or other magical creatures and at the same time, the parents are assured, that their child's delicate skin is really well taken care of.
For more info about Miss Kate:
Website: http://misskate.com.au/
Facebook: https://www.facebook.com/MissKateNatural