*I partnered with Little Passports on this post and it has been sponsored in compliance with FTC requirements. All thoughts and opinions are my own.The links in this post are affiliate links and we will receive a small commission if you make a purchase after clicking on our link.

Little Passports A Global Adventure is a monthly subscription based activity package for kids ages 3-12.
Every month, globetrotters Sam and Sofia or Max, Mia and Toby (for preschoolers) send a package full of interesting goodies to your child, directly from the country they are currently visiting. It's a great way to get your little ones learning about the world! The package includes stickers, souvenirs, photos and a letter or a note from Little Passport characters.
There are three types of adventures to choose from:
Early Explorers Ages 3 – 5 (New)

Kids from ages 3-5 are welcome to join Max, Mia and their dog Toby on their adventures around the world. During their travels, they will be exploring landmarks, animals, food, oceans, coins, space and much more.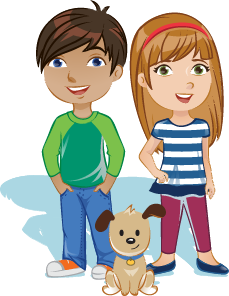 The first package Max and Mia send contains everything your children need to get started:
A fun orange suitcase
Wall-sized World Map
20-page activity booklet
Luggage Tag
Stickers and wall decal
Every month young travellers send a new package from the country they are visiting and the packages include:
20-page activity booklet
Souvenirs
Flashlight Adventures
Stickers and wall decals
Early Explorers is a great way to get your preschooler to explore different countries, cultures and to get a basic knowledge of geography and the world through games and fun activities.
You can choose a plan that fits you best. Sign up for 12 months ($12.95/month), 6 months ($14.95/month) or a monthly payment of $14.95. You can see more info about the prices here.

Kids from ages 5-10 can globetrot virtually with Sam and Sofia. Through their journeys to Japan, Egypt, Brazil and other wonderful countries, your children have a chance to travel and explore with them thanks to souvenirs, photos and activity sheets Sam and Sofia send.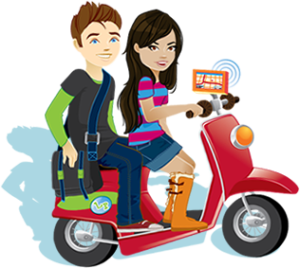 The first package your child receives contains:
Blue suitcase
Their very own passport
Wall-sized world map
A welcome letter from Sam & Sofia
Stickers, photo and activity sheet
Plus access to online games in the Boarding Zone
Every month a new package arrives from Sam and Sofia to invite your kids to travel with them. Monthly packages include:
Letters from Sam & Sofia
Fun souvenirs
Activity sheets
Stickers for your suitcase, passport & map
Photos
Access to Boarding Zone for more online games
World Edition makes geography learning much more fun and entertaining! Giving your kids a possibility to explore new countries with the help of their pen pals, unlock educational games and acquire new knowledge is the best way for your kids to become global citizens.
The plans for World Edition are as follows: for 12 months ($10.95/month), 6 months ($13.95/month) or a monthly payment of $11.95. More info about the prices here.

On USA Edition Sofia and Max discover the most interesting and important features of every US state. They identify the state symbols, eat the local food, visit the sights & local landmarks and talk about important people connected to the state they are visiting.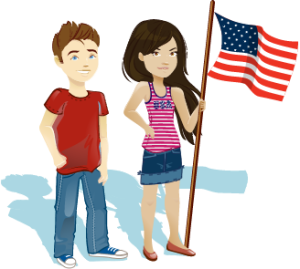 With the first package Max and Sofia send a USA folder containing:
USA Field Guide
USA Scratch Book
Wall-sized USA Map
A welcome letter from new pen pals Sam & Sofia
Disposable Camera and Photo Scavenger Hunt Project
Monthly, they will be sending out a package full of materials that feature two new states:
32-page activity-packed State Journal
Stickers and postcards
Pop-Out Models
Access to more information and activities online
USA Edition is a great addition to geography and history lessons helping to explore and investigate the most important features of every state.
These are the plans available for USA Edition: 12 months ($10.95/month), 6 months ($13.95/month) or a monthly payment of $11.95. More info about the prices here.

Thanks to Little Passports' entertaining and stimulating nature, learning will be easy, fun and enjoyable even for kids who are not interested in geography or history in particular.
Little Passports Early Explorers, World Edition and USA Edition will make a perfect holiday gift for every kid who dreams of traveling and exploring distant and exciting countries!