I LOVE crafting. There's a good reason why we have an entire dedicated, successful category for crafting & DIY.
Sometimes you need mentors and people who can inspire you with their creative ideas and guide you from idea to completion. Other times you just want to see beautiful things get made.
That being said, there are five crafting YouTube channels that I'm honestly *addicted* to.
I hope you love them and find inspiration from them like I have!
1) Así O Más Fácil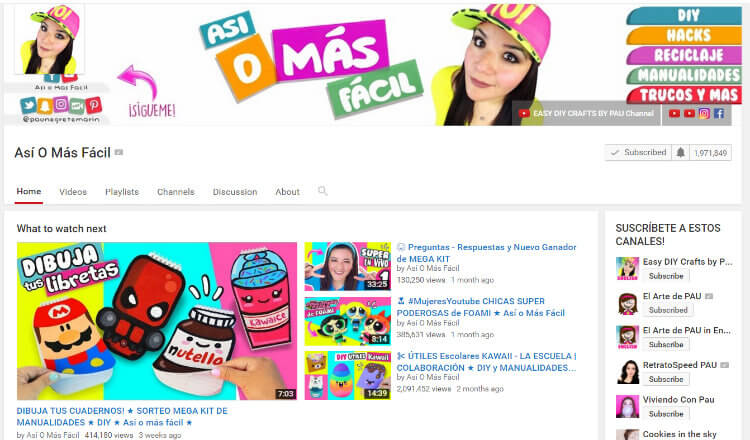 Pau is the ultimate master of crafting. Her crafts are by far the most creative, cute and practical of all YouTube crafters.
Her videos are entertaining and really well edited. It's actually hard to watch only one video – the screenshots tempt you to watch another and then another, and all of a sudden you've spent 2 hours watching her do her crafting magic.
She's also adorable – cracking cute jokes throughout and explaining everything in detail, including where she messed up.
She lets you know exactly what you need for each craft and supplies super cute printables. The explanations are easy to follow although honestly, I love to watch them but I have yet to try any of her crafts!
Here's the bummer: all her videos are in Spanish. 🙁 She did start an English channel but there's only a few videos there.
You can find all her different channels here:
Here's a peak of one of my favorite tutorials – DIY kawaii erasers that look like matches:
2) Michaels Stores
I remember the first day I discovered a Michaels Stores like it was yesterday… an entire store dedicated to crafts?! I was in absolute heaven.
I was so overwhelmed by the number of options that I ended up not buying anything. But like any crafting addict, I was tempted by everything.
Yesterday I ran into their new ads with Busy Phillips (I loved her since the Freaks & Geeks days). She's great – really natural and fun.
Then I started rummaging through their Facebook and I found some fun tutorials. Particularly their slime tutorials, which let's face it, are the IT thing right now among children.
I'm a sucker for anything colorful and fun to play with. :p
Here's the Michaels Stores YouTube channel and here's a fun slime tutorial!
3) Innova Crafts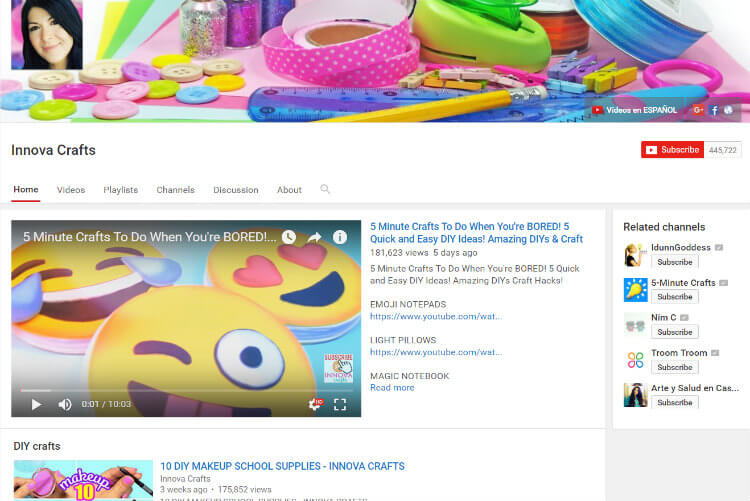 Innova Crafts are watch-and-follow videos. There's no talking or explanation past the visuals but the steps are very easy to follow.
The channel is great for people worldwide – there's no language barrier. The materials are in the description as well as links to templates and printables.
Her crafts are super cute and creative, and they're getting better with time.
You can find her tutorials on these channels:
I just love happy Kawaii things – so here's one of her best ideas so far!
4) Craftingeek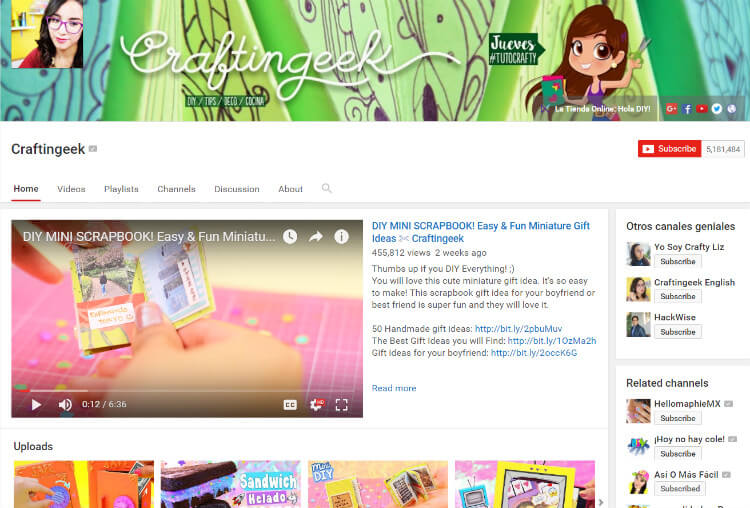 This is another Spanish-language crafting channel. There's just nothing to do about it – Mexicans make the absolute best crafts and tutorials.
Liz from Craftingeek does have an English version of her channel, but it hasn't been updated in a year. 🙁
Her specialty is gift-type crafts like cards that fold out from all angles or creative ways to create photo albums.
You can find her YouTube channels here:
She also creates really artsy recipes, like this galaxy ice cream sandwich below. Yummy and beautiful!
5) All Things Nim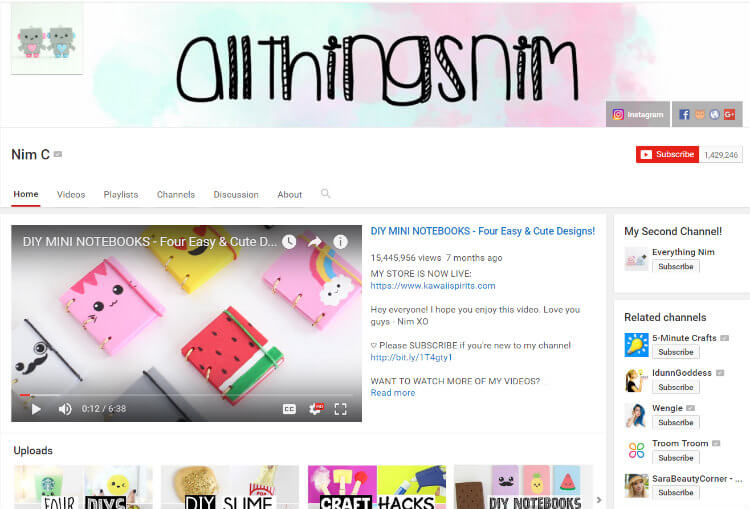 Nim is a master at creating miniature crafts and unlike other crafters featured here, her crafts are more toned down.
She tends to opt for sweet pastel colors and sweeter, smaller smiles on her items. I like the separation from other crafters who create very loud crafts.
Sometimes you just want to create something sweet and adorably tiny.
Here's her channel:
And here's a mini charms craft! (Too cute)
Do you love these crafts and channels? Do you also create tutorials? I'd love to see them and hear your thoughts!