The winter is in its full swing on the Northern Hemisphere, there is a lot of snow in almost all places and on some days, the weather is really bad. So the schools, kindergartens and the offices are closed. Yay for the snow day!?
Here are our favorite toddler snow day activities or why not to try these activities for rainy days.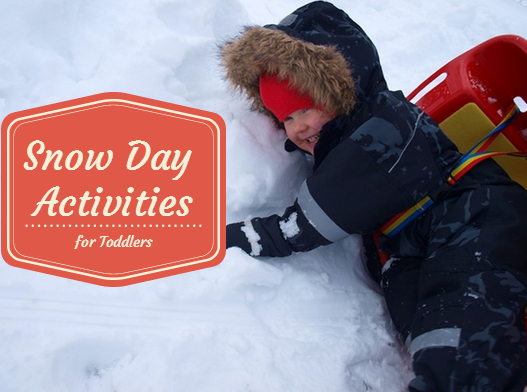 1. Enjoy the snow
If the weather conditions permit, spend some time outside. Remember to bundle up your toddler, you don't want them to get cold. There are different activities you can do outside – sledding, making snow angels and snowmen or just run around and enjoy the snow. Physical activities wear your kids out, so they sure will sleep better and fresh air might help to prevent colds and flu.
2.  Cook or bake together
You and your toddler will be hungry after all the snow fun, so why not to cook or bake something together. Cooking together helps toddlers to learn new vocabulary, and to develop their sensory and motor skills. Toddlers usually love to help out – so have some easy kid friendly recipes in hand.
If you need any ideas, check out our Pinterest board for fun recipes.
Follow HomeLifeAbroad's board Cooking and Baking with Toddlers & Kids on Pinterest.
3. Blow and catch bubbles
My daughter loves bubbles! She loves to catch, pop and chase them! Playing with bubbles develops eye-hand coordination and gross motor skills, it also helps to learn about sizes (big/small) and shapes. This activity can be done both inside and outside. Let your toddler discover how bubbles freeze in a cold winter weather or if you are inside, let your kids get their hands wet and try to catch those fragile bubbles. Now, take out your bubble gear and start blowing!
4. Get crafty
There are hundreds of fun and educational crafts to choose from. Smaller kids enjoy finger painting, playdough and sticker art, while the bigger ones might enjoy ball art, creating mosaics or using a rainbow salt tray. Try to choose crafts where toddlers don't have to stay put for a long time, as they get bored really fast.
Follow HomeLifeAbroad's board Toddler Crafts & Activities on Pinterest.
5. Snuggle up in a bed
Snuggle up in a bed and read your favorite books, watch family photo albums and have a pillow battle. Play toddler-friendly board games, jump on a bed or pull out your toddler's favorite movies and watch them together.
What is your favorite thing to do on a snow day? Any toddler snow day activities you recommend?