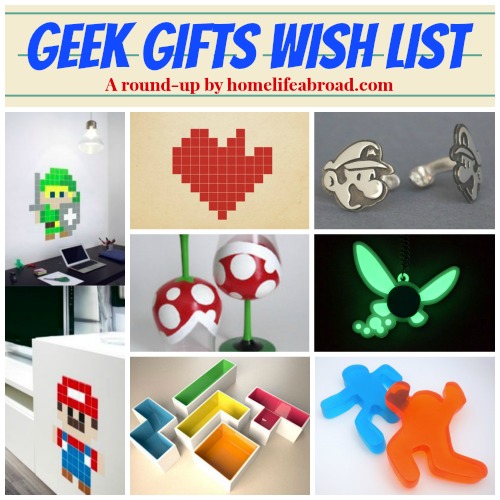 I'm a geek at heart, although I don't love to bring it up since geek culture has been the 'in' trend as of late… I'm an original geek, the type that used to stay at home playing video games, that would love to learn coding languages and use computers, and was fascinated with Legends of Zelda and Pokémon. This was all back in the day before it was considered cool and sexy. But on the plus side, the new geek chic fad means there's a lot of goodies out there to find, and I wouldn't mind a few of them for the holidays. 😀
Here are 11 awesome gifts for the geek in your life!
Sources:
CORE Glow Driveway
Pixelated Wall Clock
Tron Dress
Space Invaders Sofa
55 Piece Coin Puzzle
Constellation Earrings
Tetris Ceramic Pots
Lightsaber Chopsticks
Haunter Pokemon Necklace
Navi Glow in the Dark Jewelry
Cute Spock Items
Follow our Pinterest board to see more chic geek gifts:
Follow HomeLifeAbroad's board Geek Chic Gifts on Pinterest.